Gambling will keep the NFL at the top of the sports food chain according to ESPN personality Colin Cowherd.
In response to former Dallas Cowboy QB
Troy Aikman's prediction that the NFL's popularity will decline
in the near future, Cowherd gave three reasons why the sport will maintain its position at the top of the mountain, and the last was gambling.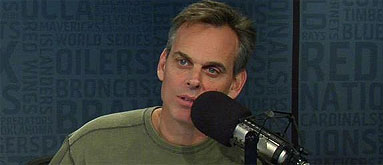 "We bet football," Cowherd told listeners of his radio show
The Herd
on Thursday afternoon. "Don't kid yourself, that's part of it.
"Now, we've always had betting in this country. Jimmy The Greek used to be on CBS, but we are so much more a gambling country."
Cowherd continued: "I am pro gambling. We do it. You do it. I do it. I don't know why anybody would be afraid of it.
"Ten billion dollars was bet on the Super Bowl. One percent of that was bet in Vegas…. We gamble it's our society."
Cowherd has taken some heat from
Covers.com
readers in the past after he - somewhat arrogantly -
claimed his public opinions on games moved betting lines
. But this quote today shows you why we love the guy so much.
He loves betting on sports and talking odds and spreads. He got his start in Las Vegas and he might be the only guy who works for ESPN (aside from Bill Simmons and Scott Van Pelt) who knows the difference between a parlay and a teaser.
The day after the NFL conference championships, Cowherd came out and said what we all were thinking: The wrong team was favored in the Super Bowl. Now, he probably took it a step too far by saying
he would have made the New York Giants 7-point favorites
over the New England Patriots, but don't forget he's trying to be controversial at times just to get a response from people.
The guy even hinted about
betting $40,000 on the San Francisco 49ers (+3.5)
against the New Orleans Saints in the Divisional Round of the playoffs. The Niners, of course, went on to win that game outright.
Related:
ESPN's Colin Cowherd says Giants should be 7-point faves
Related:
ESPN's Colin Cowherd believes his picks move Vegas lines