The San Jose Sharks are in great position to extend their winning streak to six games Monday night – and bettors might want to look at the road puck line for this one given how the Sharks have fared in Vancouver. The latest batch of early-week NHL action is full of notable matchups, including the NHL's two top teams locking horns in the Sunshine State, and two of the league's biggest stars facing off in Pennsylvania. Here are the top games, betting trends and tips to monitor in the world of hockey.
Shark Attack
Don't look now, but the San Jose Sharks have emerged as a truly scary opponent in their quest to reach the Stanley Cup final for the first time in franchise history. San Jose has ripped off five consecutive wins – the last three coming on Canadian soil – going into Monday's encounter with a Canucks side that has lost four of six.
San Jose has won in 20 of its previous 28 visits to British Columbia, and has surrendered just eight goals over its last four games. The past two wins have been identical 5-2 San Jose victories, and given the team's success in Vancouver, rolling with the puck-line bet (+165) isn't a bad play.
Lucky Number Seven?
You don't see many O/Us of 7 in NHL play, but Tuesday's matchup between the Calgary Flames and Tampa Bay Lightning at Amalie Arena might just get there. The teams rank first and second in goals per game in the league, with the Lightning at an incredible 3.8 goals per contest and the Flames close behind at 3.67.
Both teams are riding red-hot Over streaks coming into this one, with Calgary an incredible 14-2 O/U in its previous 16 games overall and Tampa Bay 5-2-1 O/U in its past eight against the Pacific Division. The teams have also cashed the Over in four of their previous five meetings.
Power Outage
The Toronto Maple Leafs and Colorado Avalanche are loaded with star power – so why would any logical bettor even consider the Under in this one? It comes down to the power-plays – and neither team is faring all that well with the man advantage as they lock horns Tuesday night at Pepsi Center.
The Avalanche are still looking for their first power-play goal of the unofficial second half of the season, having gone 0-for-14 since the All-Star break. The Maple Leafs have gone 1-for-18 since the break; they were 0-for-4 in Sunday's 4-1 loss to the New York Rangers despite finishing with 23 power-play shots on goal.
Connor vs. Sid
Get your player props ready – Wednesday's encounter between the Edmonton Oilers and the host Pittsburgh Penguins could be a bit of a barn-burner. The teams exploded for 11 total goals in a narrow Penguins victory in their first meeting of the season Oct. 24, reversing a trend that had seen the teams score five or fewer total goals in five of their previous six encounters.
Oilers star Connor McDavid is a prime candidate for a player prop pick, having recorded three goals and six assists in five career games against Pittsburgh. Penguins counterpart Sidney Crosby is also in play, with 18 points in 15 career outings vs. the Oilers.
Goalie Profile: Alexandar Georgiev, New York Rangers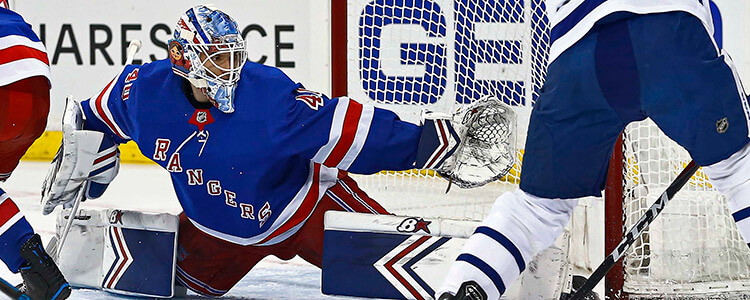 This is still Henrik Lundqvist's team – but Gregoriev has made a signifcant case for more time in the crease. Gregoriev is coming off a ridiculous 55-save performance in a weekend victory over the Maple Leafs, and has surrendered just five total goals over his previous three appearances. The trick for the 23-year-old Russian netminder: duplicating his Madison Square Garden success on the road, where he has gone a dismal 3-7-0 with a 4.11 goals-against average and an .882 save percentage. The Rangers are +170 underdogs for Tuesday's showdown with the host Winnipeg Jets.
Injury Update: Erik Karlsson, San Jose Sharks
Even more impressive than the Sharks' five-game winning streak is that they've fashioned it largely without the help of one of the league's premier offensive defensemen. Karlsson will miss his fifth consecutive game Monday with a lower-body injury, and there's no timetable for his return to action. Karlsson has racked up 43 points (three goals, 40 assists) in 47 games despite getting off to a frigid start to his Sharks tenure.
Fellow blue-liner Brent Burns has benefited greatly during Karlsson's absence with six points in four games, and makes for a terrific player prop pick against the struggling Canucks.
Hat Trick Trends
Jake Brenk's name might not be familiar to most hockey fans, but he's notable within the betting community. Brenk has been the least-friendly official to home teams of any regular referee this season, with the home side going 16-36 ATS in his assignments for a total of -18.54 units. Home teams are averaging 2.87 goals in his games, compared to a 3.29 average by the road team.
As for which referee has been part of the most offensively entertaining games this season, one man stands above the rest. Ghislain Hebert has seen an average of 6.79 goals scored in his assignments so far, the highest average of any official with at least 30 games under his belt. His contests carry a 34-26 O/U record, good for +6.55 units on the over play.
The battle for best "break-even" team has become a two-horse race between the Rangers and Arizona Coyotes. The Broadway Blueshirts have generated a total of +0.2 units through their first 55 games, with 0.61 units won at home and 0.41 units lost on the road. The Coyotes are at -0.13 units for the year, having lost 6.7 units at home and won 6.57 away from Arizona.
GET INTO OUR FREE TO PLAY STREAK SURVIVOR CONTEST AND PUT TOGETHER SOME WINNING BETS TO GET CASH PRIZES