This week I realized that I've been of legal casino gambling age for more than half my life. If you read this column regularly, you know that I often work at casinos. Sometimes I forget what it's like to walk into a casino for the first time. Now get off my lawn!
Last week at the Global Gaming Expo (G2E) there was a focus by the casino operators on finding millennial gamblers. Casino executives talk about millennials as though they're exotic animals. I remember when I was looked at that way as a member of Generation X. Finding young gamblers is like finding a unicorn to the suits.
I didn't want to play slot machines when I was 21. I needed action when I visited the casino. Sitting in front of a machine that took no skill was hardly of interest to me - especially when I had to sit next to the blue haired old ladies in Atlantic City.
At the same time, I didn't really know what I was doing in the casino at first and was a bit timid about hitting the tables. Sure, I wanted to have a good time like the people I saw in the casino. I just didn't want to mess up and get in the way of other people having a good time. Even though we're not the same people in many ways, millennials, and new gamblers today feel similar to how I did when I first started visiting casinos.
Like most of you, I think the sportsbook is one of the best places in a casino. However, placing a wager for the first time can be intimidating. I was reminded of this last week at G2E. I shared a photo of a new sports wagering kiosk that was on display at the expo and people were loving it on many levels.
Placing a wager at a kiosk takes away any confusion of rotation numbers and the technical speak you might want to know when placing a wager. Placing a wager at a kiosk removes the human factor and possibly potential embarrassment. New gamblers might be embarrassed asking someone for help or by holding up the line because they're not ready.
I remember this nervous feeling when I first visited Las Vegas. My first couple of visits to the sportsbook were in the morning before most people were awake. I asked how I should place wagers so I could move the line along. The ticket writers understand that there are many new gamblers and are willing to help you through this process.
Advice From The Books
Johnny Avello told Covers' senior writer Patrick Everson that new gamblers shouldn't be afraid to place wagers for the first time.
"Come up and ask questions. My staff will tell you exactly how to do it. We want to make sure bettors are getting what they want," he continued, "If you're not sure, don't just wing it. Don't be afraid to ask us. A lot of the time, we'll go above and beyond. We have brochures, and we'll explain what's up on the board."
Jason Simbal from CG Technology offered simple steps to place a wager so you don't have to ask for help:
1.Rotation # - This is the number you'll see next to the team name.
2.Type of bet - Side, Total, Parlay, etc.
3. Dollar amount - How much you want to wager for this bet.
Removing The Human Factor
William Hill currently has more kiosks available for wagering than any sportsbook operator in Nevada. The machines are easy to use and spit out a physical ticket that so many people want after placing a wager. Kiosk wagering will continue to grow. McDonald's is even rolling out kiosks as a way to place orders. More people are comfortable placing an order with a machine than standing in line for a person. This can be anything from Big Mac to a sports bet.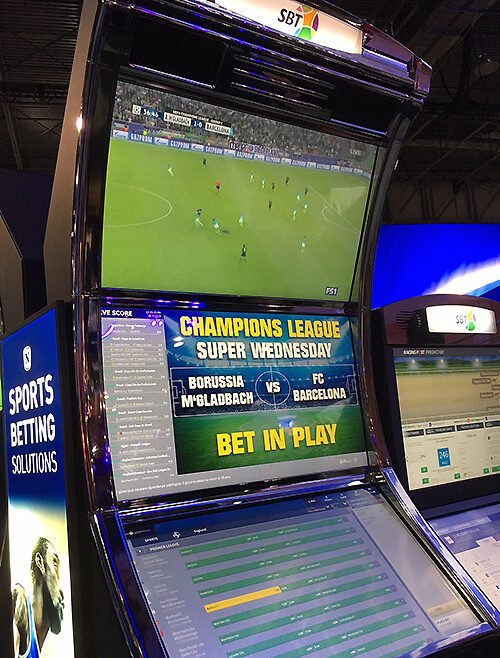 This year Caesars Entertainment has rolled out at least one kiosk at Budweiser Beer Park outside at Paris Las Vegas. The walk to the sportsbook inside the casino is about 4-5 minutes. Casino operators always try to make it easy to spend money, so we should expect to see these kiosks appear at more locations inside the casino, bars, and restaurants.
Las Vegas locals are embracing mobile wagering but that's not the case with as many tourists. Tying up money in an app isn't optimal for many. There's also that little piece of paper some can't let go. It still means something to people who don't have this gambling experience at home. The chance for a drink ticket is another reason people still enjoy placing bets in person. The more prices in Vegas increase, the more you can understand wanting a complimentary drink.
The process of wagering on sports isn't difficult. However, it may be intimidating with options on the big board and often many people waiting to bet. Follow the 3 steps we provided when placing a wager, visit the sportsbook when it's not busy to ask questions or just use a kiosk. The sportsbook operators want to make the experience as easy as possible.