Golden State Warriors at Portland Trail Blazers (+5.5, 225.5)

The Portland Trail Blazers suffered their first home loss since late December when they fell to the Utah Jazz on Sunday, and avoiding a second straight setback will be difficult with the Golden State Warriors coming to town on Wednesday. The Trail Blazers have dropped 11 straight to the Warriors, including a first-round sweep in last season's playoffs.
Portland All-Star guard Damian Lillard followed up a 50-point effort in a win at Sacramento with 39 points against the Jazz on Sunday but could not get enough help as the team fell for the fourth time in six games overall and snapped a nine-game home winning streak. Lillard is averaging 25.8 points while shooting 92.1 percent from the free-throw line, just ahead of Golden State's Stephen Curry (91.5), who will captain Lillard in Sunday's All-Star Game. Curry got the chance to call some plays on Monday, when Warriors head coach Steve Kerr let his players run the huddles in a 129-83 domination of the Phoenix Suns. "I told them the other night after the last game (on Saturday) that we were going to do it," Kerr told reporters. "It's their team. I think that's one of the first things you have to consider as a coach. It's not your team, it's not (general manager) Bob Myers' team, it's not (owner) Joe Lacob's team -- although I'm not going to tell Joe that."
TV: 10:30 p.m. ET, ESPN, NBCS Bay Area (Golden State), NBCS Northwest (Portland)
LINE HISTORY: The Warriors opened as seven-point road favorites and that number has been dropped slightly to 5.5. The total hit betting boards at 225.5 and has yet to move as of Wednesday morning. Check out the complete line history here.
If you're in the market for a online sportsbook, check out in-depth reviews of the best books and sign-up bonuses at OddsShark.com.
INJURY REPORT:
Warriors - PF D. Green (Probable, Finger), SF K. Looney (Questionable, Knee), SG P. McCaw (Doubful, Wrist), PF J. Bell (Late Feb, Ankle).
Blazers - C J. Nurkic (Questionable, Back), SG C. Wilcox (Out Indefinitely).
COVERS POWER RANKINGS: Warriors (-12.1) - Blazers (-3.3) + home court (-3) = Warriors -5.8
MATCHUP CHART:

ABOUT THE WARRIORS (44-13 SU, 26-30-1 ATS, 29-28 O/U): Golden State's players seemed to enjoy the experiment on Monday, but Suns players felt the move showed a lack of respect, something Kerr did not intend. "I told (Phoenix coach Jay Triano) afterward that it had nothing to do with being disrespectful," Kerr told reporters. "It had to do with me reaching my team. I have not reached them for the last month. They're tired of my voice. I'm tired of my voice. It's been a long haul these last few years and I wasn't reaching them, and we just figured it was probably a good night to pull a trick out of the hat and do something different." The win was the third straight for the Warriors, who won each of the three by at least 17 points.
ABOUT THE TRAIL BLAZERS (31-26 SU, 27-25-5 ATS, 24-33 O/U): Portland shooting guard CJ McCollum scored 22 points in Sunday's loss but committed five of his team's 13 turnovers and analyzed his performance after the game. "Sometimes over-dribbling, sometimes trying to make a pass and they deflect it or just read it," McCollum told the Oregonian. "I've just got to do a better job of finding the open man faster. A lot of times in some of those pick-and-rolls, there's a hard-hedge or they're waiting for us to pick up the ball and sometimes they're over-rotating. So, (I) just have to try to find the weak side. ... I've just got to do a better job of ball-faking and just being patient." McCollum totaled 12 turnovers in the last three games to bump his season average to 1.9.
CHEERLEADER BATTLE: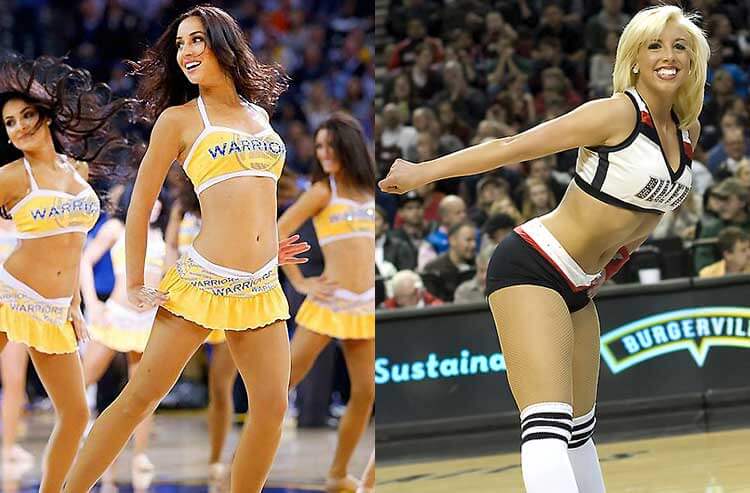 TRENDS:
* Warriors are 1-4 ATS in their last 5 road games.
* Trail Blazers are 5-1 ATS in their last 6 home games.
* Under is 10-2 in Warriors' last 12 games after scoring more than 125 points in their previous game.
* Under is 10-1 in Trail Blazers' last 11 games playing on 2 days rest.
* Over is 8-1 in the last 9 meetings in Portland.
Check out a complete list of hot and cold trends, here.

COVERS CONSENSUS: Covers contest users are backing the Golden State Warriors in this matchup, with 77 percent of pointspread picks on the road favorite. When it comes to the total, 69 percent of wagers are on the Over. Check out the complete consensus data here.