There is a light schedule across Major League Baseball today, but we still managed to find a couple of wagers that we really like. Get analysis on all of today's games as well as tips on weather, umpires, and other betting trends with our daily MLB Line Drive.

Double-Play Picks

San Francisco Giants at Milwaukee Brewers (+100, 8.5)

The Giants and Brewers open a four-game series Monday evening in Milwaukee with a very interesting pitching matchup and a curious betting line.

The Giants come to town losers of five of their last six games, including losing two out of three to the lowly Philadelphia Phillies this past weekend. Meanwhile, the Brewers also lost two out of three over the weekend but they were all very competitive battles against a very good Los Angeles Dodgers team.

For Game 1 of this series the Giants are sending veteran Jeff Samardzija to the mound - a guy who makes a lot of money to throw baseballs but is, in all honesty, a better wide receiver than he is a pitcher. "Shark" has a very rocky history pitching at Miller Park, and against the Brewers in general. Samardzija has made 10 career starts against the Brewers and his teams are 1-9 in those outings, including losses in eight straight. His teams have lost his last five starts at Miller Park where he owns a 6.15 ERA for his career.

The Brewers will be sending their ace Junior Guerra to the bump. Guerra will be making his third start since missing seven weeks with a calf injury. He has an electric arm and looked great while allowing only one run over 11.2 innings (0.77 ERA) since returning from the disabled list.

The Giants are a dismal 10-21 on the road this season, so them being favored by oddsmakers over a pretty good team who will be starting their ace tonight doesn't make a lot of sense. The conspiracy theorist gamblers would say, "There's something fishy about that line."

One aspect of the Brewers that we don't trust tonight is their bullpen. They possess one of the worst bullpens in baseball over the first two months of the season with an ERA of 4.05, 11 blown saves (second most in MLB), and a major league high 16 losses.

All of this info wrapped up together is screaming for a five-inning wager on the Milwaukee Brewers.

Pick: Brewers 1st 5 innings (-105)

Houston Astros at Kansas City Royals (+120, 9.5)

The Astros and Royals open their four-game series Monday night with a matchup of hittable right-handed starting pitchers.

Mike Friers (4.96 ERA) gets the ball for the Astros on the road tonight where he has been much more comfortable this season. Friers is 2-0 away from home thus far in 2017 and over his last three starts he owns a fairly reasonable 3.24 ERA. Home runs have certainly been his Achilles heel, with 18 big flies allowed in 10 starts, but a light hitting Royals lineup with a slight breeze blowing in from center should help his cause in that regard.

Ian Kennedy will get Monday's start for the Royals and he is having a terrible season in 2017 at 0-5 (team win/loss 2-7) and an ERA of 5.12. Over his last three outings it has been even worse with a 12.60 ERA, 1.80 WHIP and only 10 total innings pitched in those three starts.

The Houston Astros are the best team in baseball and have been incredible in the road this season at 21-6. Their league-leading road performance over the first two months of the season has profited bettors $1497 (based on a $100 wager for every road game). They have almost as many road wins this season (21) as the Royals have overall wins this season (24) and they are currently in the midst of a ten-game road winning streak.

You give us this kind of value on this Houston Astros team and we'll take it every day.

Pick: Astros -135

Yesterday's Picks: 1-1
Season To Date: 54-43-5

For more FREE picks and analysis head over to our Free Picks page on Covers Experts.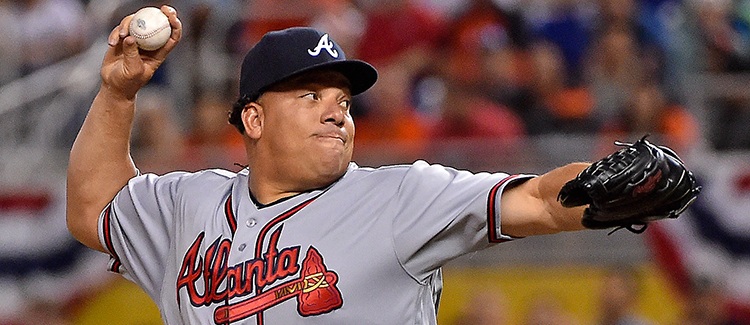 Streaking and Slumping Starting Pitchers

Streaking: Carlos Martinez, St. Louis Cardinals (4-4, 3.08 ERA, $-63)

The St. Louis Cardinals' starting rotation has been rolling over the last few weeks and their Opening Day starter Carlos Martinez is no exception. The wins haven't been there to the level that he would like, but if he continues to pitch the way he's been tossing over his last three outings the wins will certainly come.

Over his last three assignments, Martinez owns a 1.48 ERA, a 0.74 WHIP, and an opponent's on base percentage of only .207 in three quality starts.

Martinez gets the ball today in Cincinnati against the Reds and the Cards are favored at -140.

Slumping: Bartolo Colon, Atlanta Braves (2-6, 6.99 ERA, $114)

Bartolo Colon's struggles have continued as a member of the Atlanta Braves. This is three or four times that "Big Sexy" has been featured in our "Slumping Starting Pitchers" section.

It's tough to hide when you are Bartolo Colon - and it's even tougher to hide when you are 2-6 with a 6.99 ERA and you have allowed 16 runs over your last two starts (7.1 innings of work).

This Colon experiment in Atlanta can't last much longer if this continues. The Braves are slight favorites at -120 at home against the Phillies tonight.

Monday's Top Trends

* The Philadelphia Phillies are 1-12 in their last 13 road games vs. a team with a losing record. +110 today @ Braves.
* Jeff Samardzija's teams have lost his last eight starts against the Milwaukee Brewers. -115 today @ Brewers.
* Under is 8-1 in the Chicago Cubs' last nine games vs. a right-handed starter. Marlins (Straily)/Cubs Total: 7.5.
* Under is 8-0 in the Kansas City Royals' last eight games vs. American League West. Astros/Royals Total: 9.5.
* The Los Angeles Dodgers are 7-1 in their last eight games vs. a left-handed starter. -125 vs. Gio Gonzalez and the Nationals.

Weather To Keep An Eye On

There is some rain in the forecast today for Atlanta (50-60 percent chance) where the Braves are scheduled to host the Philadelphia Phillies. There will also be thunderstorms in the Atlanta area all day, so we'll have to wait and see what they decide to do with that contest.

The Wrigley Field wind today will be a stiff 15 miles per hour blowing straight in from the left field bleachers. The total for tonight's game between the Cubs and Marlins has been set at 7.5.

There will also be a 12-15 mile per hour breeze blowing out to center tonight in Oakland where the Blue Jays and A's will be facing a betting total of 8.

Monday's Top Consensus:

Here are today's top side and total plays according to the public in our Covers Consensus: