There are 15 games on the MLB schedule today, including the Cubs and Reds who continue to assault each other with baseball bats in the mean streets of Great American Ball Park. Get analysis on all of today's games as well as tips on weather, umpires, and other betting trends with our daily MLB Line Drive.

Double-Play Picks

Chicago Cubs at Cincinnati Reds (+130, 10)

The Cubs and Reds collide in Cincinnati this evening for Game 2 of their three-game series.

These two offensive-minded teams met last week for four games at Wrigley Field and it was a fireworks display, with three of the four games going over the total and an average combined score of 14.75 runs per game. And last night the two teams combined for 22 runs (a winner on the Over for us) in a 13-9 win for the Cubs.

That means the Cubs and Reds are averaging 16.2 total combined runs in their last five head-to-head meetings.

Today at the Great American Ball Park should be no different. The wind is expected to be blowing out to right-center (7-9 miles per hour) and the ball will be flying once again.

The Cubs are averaging 7.78 runs per game over their last nine contests and will send left-hander Mike Montgomery to the mound tonight. Monty will be making his first start since July 19. He's been pretty good out of the bullpen, but over his last four starting assignments his ERA is a lofty 7.45.

Montgomery's only career start against the Reds came earlier this season when he allowed four earned runs over 6.2 innings of work, including nine hits and a home run, in an eventual 5-0 loss in Cincinnati.

The Reds will send young right-hander Asher Wojciechowski to the hill to attempt to slow down the streaking World Champions. Asher started against the Cubs last Monday and was absolutely destroyed to the tune of seven earned runs, 10 hits, and two home runs allowed in just 3.2 innings of work at Wrigley Field.

Over Woj's last three appearances he has worked 11.1 innings, owns an ERA of 9.53, owns a WHIP of 1.853, and has allowed five home runs to opposing hitters.

Two offensive-minded teams, two struggling pitchers, a hitter's ballpark, and a slight hitter's wind. Gimme, gimme, gimme.

Pick: Over 10

Toronto Blue Jays at Tampa Bay Rays (+101, 8.5)

Both the Blue Jays and Rays are quickly falling out of contention for the second wildcard spot in the American League, but luckily for Toronto they send a guy to the mound for Wednesday's matchup in Tampa Bay who gives his all on every pitch, no matter the score, count or standings.

That's right, Marcus Stroman will be toeing the rubber for Game 2 of this American League East battle, and the "Height Doesn't Measure Heart" right-hander has been one of the lone bright spots in this Blue Jays' season and has been light's out in his last three starts.

Stroman has complied a 11-6 record with a 2.99 ERA (third best in the American League) and a 1.30 WHIP this season and despite a 1-1 record in his last three starts, he has pitched to a 1.71 ERA and a 1.29 WHIP. In fact, his last start was against the Rays, where he scattered two runs on six hits over 6.1 innings pitched in a 3-2 win.

The Rays counter with 27-year-old rookie Austin Pruitt, who is 1-3 with a 4.05 ERA and a 1.20 WHIP in six starts since joining the Tampa Bay rotation.

Yes, the Blue Jays have lost four straight, but Stroman thrives in being able to help his team out of a slump. Plus, he is 4-1 with a 2.62 ERA and a 1.02 WHIP in five career starts at Tropicana Field.

Pick: Blue Jays -111

Yesterday's Picks: 2-0
Season To Date: 122-112-13

For more FREE picks and analysis head over to our Free Picks page on Covers Experts.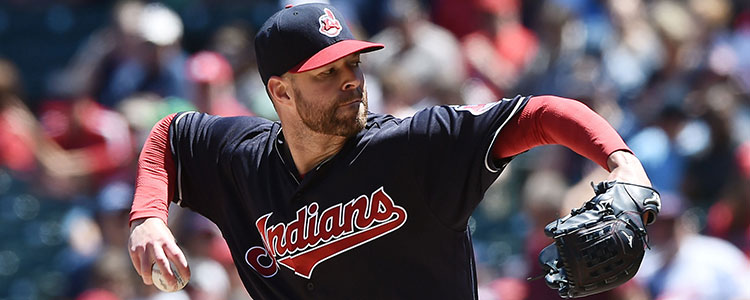 Streaking and Slumping Starting Pitchers

Streaking: Corey Kluber, Cleveland Indians (12-3, 2.67 ERA, $-49)

It was a bit of a roller coaster start to the season for the Indians, but they have used the dog days of summer to round into form and starter Corey Kluber has been no different.

In his first five starts this season he pitched to a 5.06 ERA, but since then he has turned it on. In fact, of Kluber's last 15 starts, 12 have been quality ones. In his last four starts, he is 4-0 with a 1.78 ERA and a 0.659 WHIP, while racking up 35 strikeouts to just four walks.

Kluber and the Indians are big -180 home favorites against the visiting Red Sox.

Slumping: Jordan Zimmermann, Detroit Tigers (7-10, 5.87 ERA, $-479)

Oh boy. The Tigers owe Jordan Zimmermann a lot of money for a lot more seasons and, right now, they are not getting their money's worth.

Zimmermann has struggled mightily in his second season in Detroit, going 7-10 with a 5.87 ERA (the worst of his career) and a 1.519 WHIP. In his last two starts, Zimmermann has allowed 14 earned runs on 18 hits in just 8.2 innings pitched.

Zimmermann and the Tigers are big +180 home dogs today when they host the Yankees.





Wednesday's Top Trends

* The Los Angeles Dodgers are 54-10 in their last 64 overall. -160 today at Pirates.
* Under is 9-0 in the Washington Nationals' last nine interleague games. Nats/Astros Total: 9.5.
* Over is 11-1 in the St. Louis Cardinals' last 12 games vs. a right-handed starter. Padres/Cards Total: 8.5.
* The Colorado Rockies are 4-17 in their last 21 road games vs. a right-handed starter. +120 today at Royals (Kennedy).

Weather To Keep An Eye On

Fingers crossed - there shouldn't be any precipitation that will interrupt any of today's games on the MLB schedule.

It should be a pretty calm day in the wind department as well, with the only wind getting over 10 miles per hour will be a 12-15 MPH breeze blowing out to center field at AT&T Park in San Francisco where the Giants will host the Brewers this afternoon. The total for that game is set at 9.

Ump Of The Day

Angel Hernandez: MLB umpires are pissed off and, generally speaking, nobody gets more pissed off and involved in the action than Angel Hernandez. Most average baseball fans couldn't name three MLB umpires - but everyone knows Angel Hernandez (and Joe West).

With all of the controversy involving umpires over the last few weeks, Hernandez has taken it upon himself to get games over and get off the field as quickly as possible. That means plenty of strikes called and plenty of Unders. The Under has now cashed in his last nine games behind the plate and his strike percentage is now a whopping 64.2 percent for the season.

Angel will be calling balls and strikes in Baltimore this afternoon where the O's will host the A's. The total is currently set at 10.5.

Wednesday's Top Consensus

Here are the top side and total plays according to our Covers Consensus.