Another great day of playoff baseball will kick off with Game 4 between the Washington Nationals and Chicago Cubs at Wrigley Field, and this evening we will be treated to a thrilling Game 5 between the New York Yankees and Cleveland Indians at Progressive Field.

Washington Nationals at Chicago Cubs (-125, 7)

Cubs lead series 2-1

After an unexpected day off, the Chicago Cubs will try to wrap up the National League Division Series when they host the Washington Nationals for Game 4 on Wednesday. The potential clincher was pushed back a day due to rain in Chicago on Tuesday, but the scheduled pitching matchup will remain the same with Chicago's Jake Arrieta squaring off against Tanner Roark.

The extra day could benefit Arrieta, who was slotted fourth in the Cubs' postseason rotation to allow him more time to rest his tender hamstring before making his first start since Sept. 26. Arrieta, who said his nagging right hamstring injury is a "non-issue," hopes to follow the rest of Chicago's starting rotation, which has allowed two runs - one earned - in 18 2/3 innings over the first three games of the series. The day off also gave the Nationals the option of skipping Roark and pitching Game 1 starter Stephen Strasburg on regular rest, but manager Dusty Baker said Strasburg was "under the weather" and would not have been able to follow his routine of throwing a bullpen session two days before his start if called upon Wednesday. "I just think the atmosphere around here is amazing," Roark, who grew up about an hour's drive from Wrigley Field, told reporters. "To pitch here at Wrigley, and to hear the fans, I know they are going to be crazy. I'll just do what I do best and try to keep them quiet." *Update - Stephen Strasburg will now start Game 4 for the Nationals.

TV: 4 p.m. ET, TBS

WEATHER REPORT: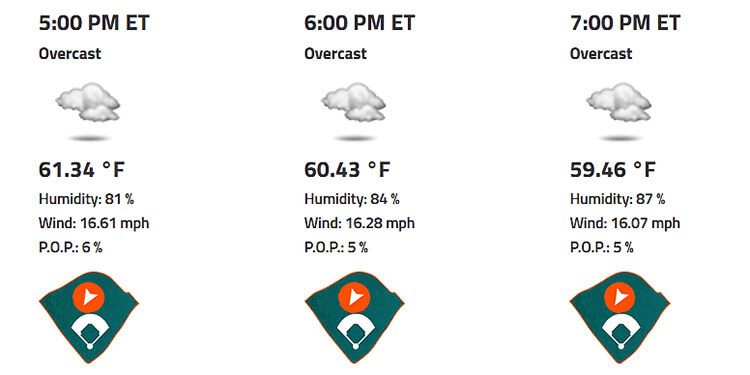 PITCHING MATCHUP: Nationals RH Stephen Strasburg (15-4, 2.52 ERA) vs. Cubs RH Jake Arrieta (14-10, 3.53)

Strasburg allowed only three hits and two unearned runs over seven innings of work in Game 1 of this series against the Cubs. He was pegged with the loss despite striking out 10 and only allowing one walk in the eventual 3-0 win by Chicago.

Arrieta is 4-2 with a 3.64 ERA in seven starts over the last two postseasons, including a pair of wins in last year's World Series. The 31-year-old has been outstanding at home throughout his tenure with the Cubs, going 30-14 with a 2.31 ERA in 59 outings. He hasn't fared as well against the Nationals, however, as he's 1-2 with a 5.48 ERA in nine meetings.

TRENDS:

* Nationals are 1-4 in their last 5 playoff games.
* Cubs are 5-0 in their last 5 Divisional Playoff home games.
* Under is 5-1 in Cubs' last 6 playoff home games.
* Under is 4-0 in Arrieta's last 4 starts vs. Nationals.

View full list of betting trends for this matchup here

COVERS CONSENSUS: The public is leaning toward the home favorite Cubs with 64 percent of the picks and Over is grabbing 67 percent of the totals wagers. View full consensus data here.





New York Yankees at Cleveland Indians (-195, 7.5)

Series tied 2-2

The Cleveland Indians have not lost three games in a row since July 30-Aug. 1, though it had been almost seven weeks between back-to-back setbacks before they dropped Games 3 and 4 of the American League Division Series. The AL's top seed will try to avoid a first-round knockout when the Indians host the surging New York Yankees in a decisive Game 5 of the ALDS on Wednesday.

The Yankees, who will start veteran lefty CC Sabathia on Wednesday opposite Cleveland ace Corey Kluber, are playing their third must-win game already in the playoffs after winning the wild-card game and staring down a 2-0 deficit in the ALDS, and are confident in their ability to handle the pressure. "I've seen them step up a lot during the course of the season, but obviously, you know, when you're in the playoffs, I think it's important to learn how to win those games and I think you play -- you see players mature pretty quickly in these type of games," New York manager Joe Girardi told reporters. "So moving forward, I think it's important. Obviously, Wednesday's a really big game and let's see what happens." The Indians won 33 of their final 37 regular-season games but have arguably been the lesser team in this series - beginning with a Game 2 win that required the them to overcome a five-run deficit - and struggles at the top of the lineup from Francisco Lindor (1-for-14, five strikeouts) and Jose Ramirez (2-for-17, seven strikeouts) are part of the problem. "In one game, what we ultimately care about is when it's over, we're one run better than them, however we do it," Indians manager Terry Francona told reporters in reference to Lindor and Ramirez. "But it makes it easier when the guys up top are setting the tone for it."

TV: 8:08 p.m. ET, Fox Sports 1

WEATHER REPORT: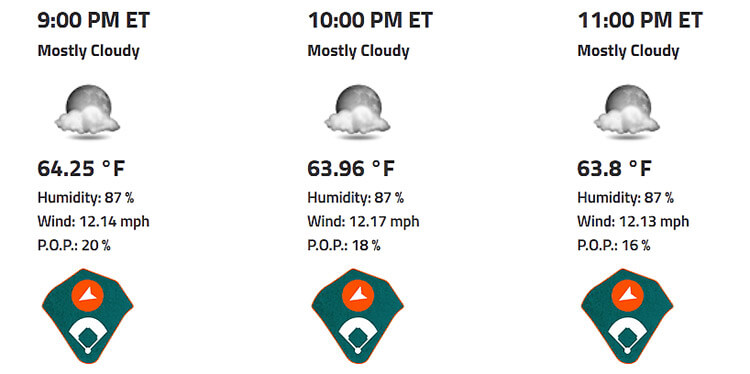 PITCHING MATCHUP: Yankees LH CC Sabathia (0-0, 3.38 ERA) vs. Indians RH Corey Kluber (0-0, 20.25)

Girardi was heavily criticized for several decisions in Game 2's 13-inning loss, but the main gripe was his decision to yank Sabathia after 77 pitches and 5 1/3 innings. The 37-year-old retired 12 of the last 13 batters he faced and left with a five-run lead before watching the bullpen and Girardi let him down. Sabathia is 9-5 with a 4.47 ERA in 20 career postseason appearances and has had his struggles against Ramirez (4-for-8, two RBIs) and Lindor (5-for-9).

Kluber suffered through his worst start of the season in Game 2, serving up six runs on seven hits - two homers - in 2 2/3 innings but was let off the hook when Cleveland stormed back for the win. Kluber started Game 7 of the World Series for the Indians last October, and his team has plenty of confidence in the Cy Young candidate. "It's hard to imagine giving it to somebody better," Francona told reporters of starting Kluber. "We tried to set up for a five-game series with plans, contingency plans, and pretty much everything is -- there's been a lot of things happen, and we go to Game 5, we're at home, and we have Kluber. It will be -- we're looking forward to it."

TRENDS:

* Yankees are 0-5 in their last 5 playoff road games.
* Indians are 6-0 in their last 6 Divisional Playoff home games.
* Indians are 8-1 in their last 9 home games vs. a left-handed starter.
* Under is 9-3 in Sabathia's last 12 road starts.
* Under is 6-1 in Kluber's last 7 home starts.
* Indians are 6-0 in Kluber's last 6 starts vs. Yankees.

View full list of betting trends for this matchup here.

COVERS CONSENSUS: The public is leaning toward the home chalk Indians with 73 percent of the picks and Over is grabbing 65 percent of the totals wagers. View full consensus data here.