There are 15 games on the MLB schedule today, including the Cleveland Indians who are attempting to win their 20th in a row and are massive moneyline favorites against the Tigers. Get analysis on all of today's games as well as tips on weather, umpires, and other betting trends with our daily MLB Line Drive.

Double-Play Picks

New York Yankees at Tampa Bay Rays (-145, 8)

The Yankees and Rays tangle for their second of three games being played at Citi Field in Queens (home of the Mets). The Yankees took the opener 5-1 in front of 15,000 Yankees' fan - even though the games are technically displaced home games for the Rays due to Hurricane Irma.

We're surprised Major League Baseball didn't put these games somewhere a little bit more neutral. This a definitely an advantage for the Yankees and they will continue their winning ways today.

The Yankees have now won eight of the last 11 meetings with the Rays and seven of their last nine games overall.
Sonny Gray will get the ball for the Yanks and, despite not getting the results he'd like, he has pitched really well since joining New York. In seven starts with the Yankees his team win/loss is only 3-4, but he has pitched to an ERA of 2.74 and a WHIP of 1.172.

Blake Snell gets the ball for the Rays. He's had a bit of a weird season - he's had streaks of good and bad starts. In his last outing he allowed six earned runs over four innings against the Minnesota Twins, so we can assume he going to go on a little bad run.

The Yankees offense is in another one of their hot streaks - averaging 7.5 run per game over their last eight - so they should give Snell plenty of problems today.

Pick: Yankees -145

Houston Astros at Los Angeles Angels (+114, 8)

The Angels return home after a tough nine-game road trip in which they managed to go 4-5, only to be welcomed by the division leading Astros for an important three-game series.

At 73-70, Los Angeles still trails the Twins for the second wildcard spot in the American League and with just three weeks left in the season, every game matters. Unfortunately for the Angels, they must face an Astros team that is now in a race for top spot in the American League with the Indians.

To make matters worse, they open the series against newly acquired Justin Verlander, who loves pitching in a pennant race. In Verlander's debut for the Astros he threw six innings of one run ball, allowing six hits and striking out seven, leading his new team to a 3-1 win.

The former AL Cy Young and MVP award winner has been looking like his old self. Since the All-Star break, Verlander is 6-2 with a 2.33 ERA, a 0.91 WHIP, while racking up 85 strikeouts to 17 walks.

He faces Garrett Richards, who makes just his second start since returning from a right-bicep injury. The Angels kept him on a pitch count in his first start, throwing just 52 pitches in 3.1 innings. Tonight, he shouldn't get more than 70.

Richards also got an easy assignment in his first start back against the A's. It won't be so easy against the Astros, who rank first in runs, average, OPS and are third in homers.

Too much value with the 'Stros here.

Pick: Astros -129

Yesterday's Picks: 2-0
Season To Date: 139-132-14

For more FREE picks and analysis head over to our Free Picks page on Covers Experts.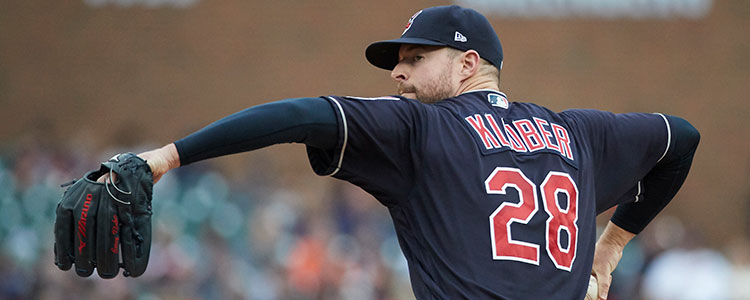 Streaking and Slumping Starting Pitchers

Streaking: Corey Kluber, Cleveland Indians (15-4, 2.56 ERA, $102)

Who on this Cleveland team isn't streaking right now? But it would be no surprise if this team was following the lead of its ace.

The Indians' last loss was in a Kluber start in which he pitched 7.2 innings, allowing two runs on four hits while striking out 12. In the three starts during the streak he is 3-0 with a 1.96 ERA, a WHIP of 0.70, while racking up 27 more strikeouts to just two walks. Wow.

Kluber and Indians are on track to be the biggest moneyline favorites of the season today versus the visiting Tigers, with the line currently at Cleveland -420.

Slumping: Nick Pivetta, Philadelphia Phillies (5-10, 6.49 ERA, $-479)

It's been a tough introduction to the big leagues for Phillies rookie Nick Pivetta, who has never really found his groove and it seems to be getting tougher on the young right-hander as the season has worn on.

Pivetta is 5-10 on the season with a 6.49 ERA and a 1.56 WHIP, but the numbers have really turned south since the start of August. In his last seven starts he is 1-4 with a 9.41 ERA and a 2.06 WHIP.

Pivetta and the Phillies are currently +100 home dogs against the visiting Marlins.





Tuesday's Top Trends

* The Cleveland Indians have won their last 19 games overall. -400 today vs Tigers.
* Under is 11-1 in Eduardo Rodriguez's last 12 starts vs. a team with a losing record. A's/Red Sox total: 9.5.
* The New York Mets are 1-10 in their last 11 games vs. a left-handed starter. +250 today at Cubs (Quintana).
* The Los Angeles Dodgers have lost 10 in a row and 16 of their last 17 overall. -275 today at Giants.

Weather To Keep An Eye On

The only rain in today's MLB forecast should be in St. Louis where the Cardinals are entertaining the Reds. There is a 50 percent chance of rain in the early evening but the wet stuff should taper off at around 8:00 pm local time.

That same game in St. Louis will also feature a 9-12 mile per hour wind blowing in from left-center field. The total is currently set at 8.5.

Wind check for Wrigley Field in Chicago is showing a 7-9 mile per hour breeze blowing in from left-center. The total for today's game between the Mets and Cubs is currently 8.5.

Tuesday's Top Consensus

Here are the top side and total plays according to our Covers Consensus.