There is a full slate of 15 games on the baseball schedule Saturday, including the Chicago Cubs taking on the Arizona Diamondbacks, two teams whose playoff aspirations are being threatened by the surging St. Louis Cardinals. Get analysis on all of today's games as well as tips on weather, umpires, and other betting trends with our daily MLB Line Drive.
Double-Play Picks
Chicago Cubs at Arizona Diamondbacks (+115, 9.5)
After losing six of their previous eight games and dropping three consecutive series, the Cubs got a much-needed win in their series opener against the Diamondbacks, winning 8-3 on Friday night in Arizona.
Chicago is currently in first place in the National League Central, but the red-hot Cardinals are breathing down their necks having reeled off seven consecutive victories to sit just one game behind the Cubbies in the National League Central. Chicago will look to string together back-to-back wins for the first time in almost two weeks when they send Jon Lester to the bump to take on the D-backs Patrick Corbin in Game 2 Saturday night.
Lester is having what would be a down year by his standards, going 8-6 with a 3.97 ERA, but the lefty does possess a 1.223 WHIP, so he has been somewhat unlucky. It should also be noted that Lester has done well on the road recently. The Cubs have won his last five starts away from Wrigley Field, while he has pitched to a 2.12 ERA and a 0.765 WHIP.
In fact, despite their recent struggles, the Cubs have been a much better team on the road than at home going 13-3 in their last 16 games away from Wrigley.
Arizona counter with a left-hander of their own in Patrick Corbin, who has just been mediocre for the D-backs this season, going 8-11 with a 4.76 ERA and a 1.562 WHIP.
Unfortunately for Corbin, the Cubs love facing lefties. They have scored the fourth most runs, have the fourth best average and the fifth best OPS against southpaws this season.
Pick: Cubs -125
Cincinnati Reds at Milwaukee Brewers (+129, 9)
The Brewers spent most of the season in first place in the National League Central, but they have struggled since the All-Star break and now are in fourth place in the division and are on the brink of falling out of postseason contention.
Things didn't get any better for the Brew Crew on Friday night as they dropped the opener of a three-game home set against the basement dwelling Cincinnati Reds 11-10.
The interesting note for bettors from this game is that it was the sixth time in the last seven meetings they have gone Over the total, with the Over going 8-3 overall in this series in 2017. Friday night's contest kept the theme of the season series going with a huge total of 21 runs scored. The average total runs for Reds-Brewers games this season has been 10.4.
Both the Reds and Brewers possess competent offenses with each averaging over 4.5 runs per game on the season, while at the same time struggling on the mound, especially in Cincy's case.
Saturday matches up the Reds' Scott Feldman against the Brewers Brent Suter.
The journeyman Feldman is 7-7 with 4.34 ERA this season but has been beat up in his last two outings, allowing nine earned runs on 10 hits, including four dingers in just six innings pitched.
Meanwhile, Suter, a rookie, has actually been solid since joining the Brewers rotation, but he hasn't been going deep into ball games and Milwaukee's bullpen hasn't been nearly as good as the starters, pitching to a 4.19 ERA this season.
Expect the fireworks to continue Saturday.
Pick: Over 9
Yesterday's Picks: 1-1
Season To Date: 109-103-13
For more FREE picks and analysis head over to our Free Picks page on Covers Experts.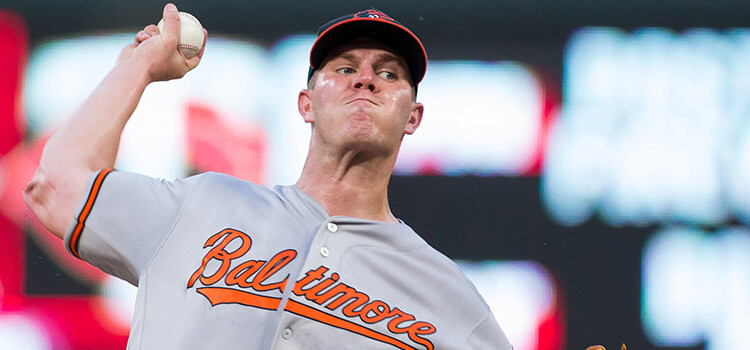 Streaking and Slumping Starting Pitchers
Streaking: Dylan Bundy, Baltimore Orioles (11-8, 4.15 ERA, $431)
The Baltimore Orioles's starting rotation has struggled for most of the season and routinely appear on the slumping side of our daily line drive. The best of the bunch this season has been Dylan Bundy, he lead's the Orioles rotation in wins, innings, and quality starts.
Over his last two assignments, Bundy has been a dominating force. He's logged 15 total innings, allowed only two earned runs (1.20 ERA), and has surrendered one walk to go along with 15 strike outs.
Bundy gets the ball today in Oakland against the Athletics and the Orioles are available at +101.
Slumping: Sean Manaea, Oakland Athletics (8-6, 4.15 ERA, $-48)
The other side of today's pitching matchup in Oakland today is Sean Manaea.
Manaea has had an up and down season for the Athletics. In just his second full season in the Majors the 25-year-old has shown flashes, but overall his numbers are…meh.
But this is the 'Slumping Starting Pitchers' section and when we look at his last two trips to the mound Manaea has struggled. 0-1 record, 12 runs allowed, seven earned (10.33 ERA), three home runs allowed, and only two strikeouts. More home runs given up than strike outs thrown is not the path to success in the majors.
The Athletics are currently available at -109.
Saturday's Top Trends
* Yankees are 9-1 in Luis Severino's last 10 starts vs. a team with a winning record. Yankees -149 vs. Red Sox.
* Rays are 0-6 in Chris Archer's last 6 starts vs. Indians. Rays -136 vs. Indians.
* Twins are 7-1 in Jose Berrios' last 8 starts vs. a team with a losing record. Twins -111 @ Detroit.
* Over is 9-0 in Ian Kennedy's last 9 starts vs. American League Central. O/U: 10 @ White Sox.
* Marlins are 1-7 in Justin Nicolino's last 8 home starts vs. a team with a winning record. Marlins +115 vs. Rockies.
Weather To Keep An Eye On
There is a 45 percent chance of rain and thunderstorms tonight at first pitch at Nationals Park where the San Francisco Giants will be visiting the Washington Nationals. Things are forecasted to improve as the night goes along, so they should be able to get the game in. Same situation at Citizens Bank Park where the Phillies are hosting the Mets, rain and thunderstorms could cause delays but they should get the game completed tonight.
In Arlington, there is a storm rolling through tonight that could impact the end of the Astros and Rangers game. Things will be fine at first pitch, but rain and thunderstorms are forecasted to be rolling in later in the evening.
Our most impactful wind will be a gusty 14-16 mile per hour breeze blowing out to right center field in Oakland where the Athletics welcome the Baltimore Orioles. The total is sitting at 9.
Ump Of The Day
Lance Barksdale: There has been a bit of a home team bias in Barksdale recent outings behind home plate. The home team is 12-3 in his last 15 games calling balls and strikes. In games, Barksdale has officiated this season the home team is scoring 1.43 more runs per game and has made bettors $403. Luckily for the Rangers he'll be calling balls and strikes tonight at Globe Life Park in Arlington when they host the Astros.
The Rangers are currently +115 home dogs.
Saturday's Top Consensus
Here are the top side and total play according to our Covers Consensus.