NFL fans, much like new parents, are a high-strung bunch.
And like new parents, NFL fans can get pretty worked up when their precious baby of a team doesn't perform up to their lofty expectations.
Colts came out flat in Week 1 = Oh, dear God the sky is falling! Little Jenny isn't crawling yet = Nooo, she's doomed to life as a slug!
I'll admit, I've been that overreacting parent a time or two: both with my kids (I have three) and with my beloved Dallas Cowboys. But with each child – and every NFL season – I get a little calmer when it comes to adversity. Maybe I'm getting wiser or I just don't have the energy to worry much anymore.
The pressure is so high in the NFL and in life because both are extremely competitive arenas. If you're not reading Stephen Hawking's theories to your six-week old infant, he's not going to get into an Ivy League school on a free ride. And if your football team crapped all over the bed in Week 1, they're definitely not making the trip to Santa Clara for Super Bowl 50.
Bull crap.
My favorite parenting trend in recent years is the
CTFD Method, invented by mad scientist/dad David Vienna
. The theory behind this intricate and methodical child rearing tactic is this: Calm The F#ck Down. And it's a practice that applies not only to your underachieving brats but also to your sucky NFL team too.
For example, from Vienna himself:
Upset that your child doesn't show interest in certain areas of learning?
Calm the f#ck down.
Now, apply that to your NFL team:
Upset that the Seattle Seahawks couldn't find a way to pick up one stinking yard – again?
Calm the f#ck down.
But unlike the parental version of Vienna's CTFD Method, which only has one step (can you guess what it is?), the NFL fans take on CTFD is a two-step process: 1. Calm the f#ck down (of course). 2. Bet on their Super Bowl futures.
If you think your team has a legit shot at making the Big Game - and we're not talking to you Browns, Raiders, Bucs, and Redskins fans (you're already eerily calm because you're dead inside) – why not put your money where all your moaning and groaning is coming from? The price has never been better.
Teams like Indianapolis (8/1 to 12/1 to win the Super Bowl after Week 1 loss), Seattle (9/2 to 6/1), Philadelphia (8/1 to 12/1), Detroit (30/1 to 50/1), Baltimore (16/1 to 25/1), New Orleans (30/1 to 40/1), and Pittsburgh (20/1 to 25/1) all suffered a defeat in their opening game and all took a significant knock down the Super Bowl 50 odds board.
And it's not like a Super Bowl winning team has never come back from a poor start to the schedule. Just last season, the Patriots got beat by Miami in Week 1 and were 2-2 through the first four weeks of the season. New England started the year at 7/1 to win the Super Bowl, jumped to 12/1 following that opening loss, and were 14/1 after getting smashed 41-14 by the Chiefs on Monday Night Football in Week 4 of the 2014 season. But did Tom Brady, Bill Belichick & Co. let that poor start take the air out of their Super Bowl hopes? Well… not their hopes, but…
Looking back over recent Super Bowl champs, the 2012 Ravens started 1-1, the 2011 Giants lost in Week 1 and their 2007 team started 0-2. The 2003 Patriots were losers in their opener as were the 2002 Buccaneers and 2001 Pats team, which actually lost in Week 1 and Week 2 and was 1-3 after four weeks.
So, sit back, let your kids eat their crayons, watch Week 2, and please calm the f#ck down.

Books will be back
Sorry if I don't feel any sadness for the sportsbooks taking a big hit in Week 1 of the NFL season. The lights will still be on in Vegas this weekend. The flood of favorites and Overs (both went 9-4) in the opening Sunday was a catastrophic day for bookies, who lucked out in the Monday games with the 49ers and Falcons (two underdogs) killing many existing parlays.
But while the bookmakers lick their Week 1 wounds, let's not get soft on them. Just a year ago, books celebrated a huge win in the opening weekend of NFL action with underdogs going 10-3 ATS. And as mentioned last week, September is a tough time for football bettors. So keep your head on a swivel in Week 2…
Pants-pooping Trend of the Week
Wrote a little diddy on this bonkers trend earlier this week
(and Tweeted it!) but in case you missed it while you were living your life, reigning Super Bowl champs are an ugly bet in their first road game of the new season.
Over the past 30 season –
taking us back to 1985 when the top song was this gem
– those defending champs are just 9-21 ATS (15-15 SU, 14-15-1 O/U) when playing the role of visitors for the first time – covering just 30 percent of the time. The Bills already have a taste for upset after creaming the Colts and host the Super Bowl-winning Patriots as 1-point home dogs Sunday.

The Madden Project
If you didn't catch this column last week,
click here for the explanation behind this section
. If you would rather not and get the short and sweet, we're using NFL Madden 16 on the Xbox One to simulate games and see how close they come to calling the actual final scores for the purpose of gambling. Sounds so dirty when you say it that way.
Last week's sims weren't too far off, especially went it came to the Bills beating the Colts. Here's what the machine said (averaged over three simulations) compared to the actual score:
Green Bay beats Chicago 28.7-16.3 (Difference 12.4 points) / Actual score: Green Bay wins 31-23 (Difference 8 points)
Buffalo beats Indianapolis 25-19.3 (Difference 5.7 points) / Actual score: Buffalo wins 27-14 (Difference 13 points)
New Orleans beats Arizona 24.7-18 (Difference 6.7) / Actual score: Arizona wins 31-19 (Difference 12 points)
Denver beats Baltimore 22.7-20 (Difference 2.7 points) / Actual score: Denver wins 19-13 (Difference 6 points)
Dallas beats New York 29.7-13 (Difference 16.7) / Actual score: Dallas wins 27-26 (Difference 1 point)
Madden 16 ATS record: 2-3 ATS
Week 2 sim results:

San Francisco at Pittsburgh: 35-31/24-31/14-45 (Average score: 24.3-35.6)
Arizona at Chicago: 30-21/38-10/30-27 OT (Average score: 32.6-19.3)
New England at Buffalo: 32-38/31-28/27-22 (Average: 30-29.3)
Dallas at Philadelphia: 31-28 (Bradford injured)/21-40/33-23 (Average: 28.3-30.3)
Seattle at Green Bay: 6-16/30-38/21-40 (Average: 19-31.3)

Good luck robot!

Biggest line move
Cleveland opened as a 3.5-point home favorite versus Tennessee but with the Titans looking great in Week 1 and the Browns losing QB Josh McCown to a
goal line hit that would make Dead or Alive proud
– and subsequently ushering in the Johnny Manziel era – bettors have pushed this spread as far as Cleveland +2. That's a massive 5.5-point swing. Manziel coughed the ball up three times against the Jets – two fumbled and an interception – and lucked out on more than one throw. Play the above link and watch the video of McCown for maximum impact - and hilarity.

Books are sweating…
The New Orleans Saints. This game opened 10.5 at some markets and is down to Saints -10 with early money on the Bucs. However, at the MGM Mirage in Las Vegas, some heavy wagers have come in on the New Orleans moneyline (-500 range) to win the game straight up.
"We've taken some six-figure wagers on the Saints, but it's a huge opportunity for us," Jay Rood, vice president of race and sports for MGM Las Vegas, tells
Covers
. "If the No. 1 overall pick can somehow come through with a win for us, it would be nice. If he pulls it out, I'll buy a Jameis Winston jersey before kickoff of the 1 p.m. (4 p.m. ET) games."
Wiseguys love…
The Houston Texans. Carolina opened as big as a 4.5-point home favorite but that spread has been trimmed down to Panthers -2.5 at some online markets. According to Rood, sharps jumped on the Texans at +3 and some are even bypassing the points and taking Houston on the moneyline (+135 range) to win the game outright.
Banker Game of Week 2
Miami at Jacksonville/Baltimore at Oakland. With plenty of parlays carrying over from the 1 p.m. ET starts, books will be winners or losers based on how the Raiders and Jaguars do in their home stands. According to Rood, many bettors are going heavy on the chalk with moneyline parlays and any still hanging around after the early starts will undoubtedly be going against two of the NFL's worst teams.
"They're starting this week with the super chalk parlays," says Rood. "The afternoon games are looking really ugly for us right now. If those come through (with Oakland and Jacksonville losing), they'll likely be tied to a few of the morning games. We need one or two games to go the other way and knock those out early on."
Rood also says the Sunday Night Football finale between Seattle and Green Bay will also be a big decision on how Week 2 shakes down the for the bookmakers, with parlays rolling into the night game and two of the top teams in the NFL squaring off in a rematch of the NFC Championship Game.
"I think every parlay ticket still alive will have Green Bay on it," says Rood. "That game will finish of a lot of stuff."
Daily Fantasy Player of the Week
Damn it Owen Daniels! Made me look like a fool! If it's any consolation, I had Daniels going in my DFS plays and my actual season long fantasy league, so his monstrous 1.5 points was felt on this side of the page as well. Needless to say, he's already been dropped from the famed "Balding Bulldogs" (after just 1.9 points Thursday). I'm sure he's taking it very, very hard.
OK, time to pull a Tay-Tay and shake Week 1 off. This week's DFS POW is…
Devante Adams, Green Bay Packers ($6,400)
James Jones made it rain for some insightful DFS players in Week 1, but this week it's the Packers' speedy wideout who puts up some nice numbers. Adams was targeted eight times by Aaron Rodgers against the Bears, catching four of those passes for 59 yards – although the bulk of those came on two long throws of 21 and 25 yards.
With Richard Sherman hawking Randall Cobb and Jones not catching anyone off guard, Adams is primed to strike for some massive gains down field. And, as I noted in my weekly NFL betting mismatches breakdown, Seattle gave up repeated big passing plays to the Rams last Sunday.
Injury you should know
Each week I'll point out an injury that may not register with the oddsmakers, as far as importance to the spread, but could still have a huge impact on how the game trickles out. This week's injury you should know…
Reshad Jones, SS Miami Dolphins
Jones has 12 tackles in the Week 1 win over Washington but suffered a strained hamstring and is currently listed as questionable against the Jaguars (Miami -5.5). He's a very active player and seemed like he was in on almost every play last Sunday. Behind him is a very inexperienced group of safeties, with Michael Thompson stepping in as a starter is Jones can't go. Thompson was on the field for only 29 percent of the Dolphins' defensive plays against the Redskins but did make some key tackles in those limited minutes.
We know how to pick'em…
The tightest game on the board is the AFC East showdown between New England and Buffalo, which opened pick'em and has since moved to Patriots -1. Books project the late money coming in on the defending Super Bowl champs (but didn't you read the trend above, you fools!) and will be cheering for Buffalo to pull off another big-name upset.
As we did last week, we settle all pick'ems (or the closest thing to) by not getting into all those crazy stats and matchups (it's the weekend damn it), but instead turn the battle to the beautiful cheerleaders on the sidelines. You make the call: pick your favorite in the comment section below.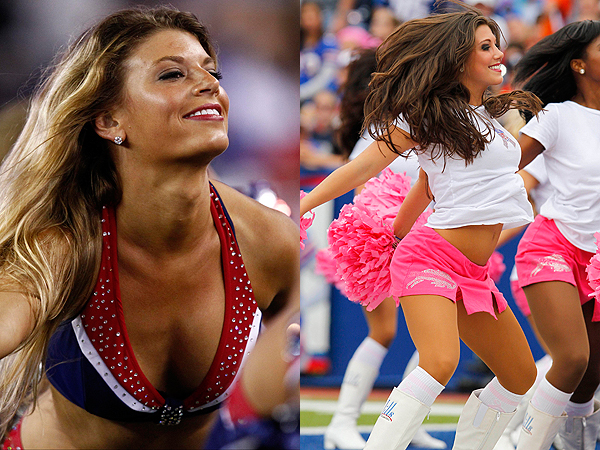 Sunday's menu
This Sunday we're actually going over to my in-laws house for supper, which means watching my Cowboys face the Eagles – and that Judas DeMarco Murray – in front of my wife's family. That's always a practice in self-control.
My mother in-law, who is from Newfoundland, had heard of football but never really watched until I came around. Her first take on the sport: "Jesus, they're up and down like a dog's breakfast. And they do this for three hours? Whatever floats your boat my son."
We all can't be fans. But she is one mean cook, and according to her we're having BBQ pork tenderloin. Not sure if this is her recipe, but it sure as hell looks good:

Song for Sunday
So, as you may have already picked up on, I'm a Cowboys fan. And this Sunday is the first game between Dallas and former RB DeMarco Murray. In the spirit of bad breakups and jilted exes, I give you a
"Jagged Little Pill"
to choke down. Good luck and enjoy the games.
Follow Covers Features Editor Jason Logan on Twitter @CoversJLo. Check out JLo's Covers archive for his latest features and columns, including his NFL's biggest betting mismatches Week 2.