Well, here we are.
Super Bowl XLVIII is upon us and it probably couldn't present a more attractive matchup.
Peyton Manning and the explosive offense of the Denver Broncos versus the Seattle Seahawks and their stingy, ball hawking defense.
Bettors came out in droves to back the Broncos as soon as lines were available. The game opened a Pick at the majority of shops, but that early Denver action has the spread nestled firmly at -2 as we head into the weekend.
Expert NFL bloggers Rob Davis of Seahawks blog "Field Gulls" and Kirk Davis of Broncos blog "Bronco Planet" strap on the pads to debate not just who the best team in the NFL is, but which team will cover the spread when the Seattle Seahawks and Denver Broncos clash in Super Bowl XLVIII Sunday night.
WHY THE SEAHAWKS WILL COVER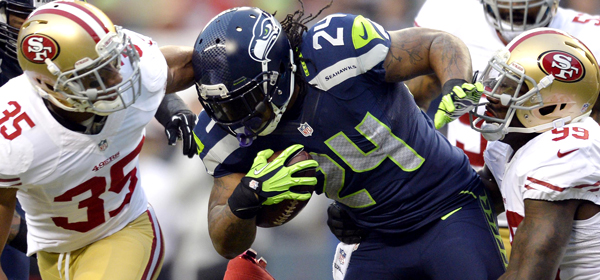 Rob Davies writes for
Field Gulls
. You can follow them on
Facebook
and Twitter
@FieldGulls
.
Surprise packages
While much has been written about the role Peyton Manning will play on Sunday, Seattle does at least have a ton of film to watch on him and all of it is of Manning in a Broncos uniform. Denver isn't afforded the same luxury when learning how to defend against the Seahawks with Percy Harvin on the field.
Yes, there's hours of fun to be had poring over tape of Harvin in Minnesota, but, realistically, that amounts to no tape at all.
Harvin can be expected to see the ball both in front of and behind the line of scrimmage and his mere presence frees up not only the other receivers, but it also keeps Denver's defense honest. This assists not only Marshawn Lynch, but also Russell Wilson and what should be a fully healthy Harvin adds a sense of potency to an already solid, albeit hitherto unspectacular, offense.
If it ain't broke, don't fix it
Despite trailing for the majority of the NFC Championship Game, Seattle never once abandoned it's offensive philosophy, continually utilizing and trusting in its ground game before a big run finally, almost inevitably, broke. This Seahawks offense is practically defined through the exertions of Marshawn Lynch and the fact that he became the first player this season to rush for at least 100 yards on the 49ers was no accident.
Broncos' defensive tackle Terrance Knighton is receiving a lot of love right now and he undoubtedly has a big say in how Lynch performs on Sunday. However, as resurgent as Knighton might be, he's never faced a back as intimidating as Lynch, a runner so adept at shedding tacklers, a Beast (if you will) so punishing.
If Harvin's able to last the sixty minutes, Seattle will still run the ball. If Harvin isn't able to last, Seattle may run the ball even more...until a big run finally, almost inevitably, breaks.
Peyton's playoff record below 40 degrees
If Peyton Manning says he's OK playing in the cold, then that makes everything all right. No problem. Only there might be. In plain ol' black and white, Manning's 0-4 in the playoffs when the temperature's below 40 degrees and it doesn't figure to get above that come kickoff on Sunday. He can win in the cold, of course he can. It's that it's just about his worst habit when it comes to 'one and done' football.
Sure, he's already won in the biggest game, but he's also lost in the biggest game and that was against a New Orleans defense ranking nowhere near the opportunistic, bruising, athletic defense that awaits on Sunday. In the cold.

WHY THE BRONCOS WILL COVER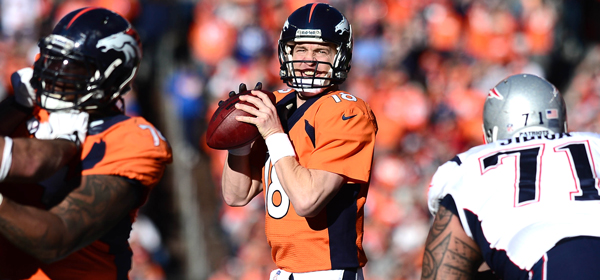 Kirk Davis writes from
Bronco Planet
. You can follow them on
Facebook
and Twitter
@broncoplanet
.
The Broncos will stuff the run
The Seahawks big run threat is Running Back Marshawn Lynch. After all, he ran for 1,257 yards and 12 Touchdowns while catching 36 balls for 316 yards and another two TDs this season. Lynch also did well in the two playoff games too, with 140 yards and two scores against the Saints and another 109 yards and a TD against the Niners. However, the Broncos are very good against the run. They have been all season, but they have really clamped down in the playoffs, allowing 129 rushing yards total in both games. In fact, they have only allowed one 100-yard rusher all season long and that was San Diego's Ryan Mathews, with 127 yards in Week 15, when Denver played two games in a three day timespan.
Cover Two? Cover who?
The 'Hawk with the Squawk, Richard Sherman, may be the fifth best CB in the NFL during 2013, but he cannot cover all five Bronco offensive players with 10 or more TDs each this season. Demaryius Thomas (14), Julius Thomas (12), Eric Decker (11), Wes Welker (10) and Knowshon Moreno (10). The Seahawks might take one away, maybe even two, but Peyton Manning is the guy throwing the ball.
Russell Wilson won't beat Peyton
The Seahawk quarterback is mobile, having run for 539 yards and a TD during the regular season, but the Broncos will take away the run and force Wilson to beat them. Russell had a 63 percent completion ratio, throwing 26 Touchdowns against nine Interceptions, but he was also sacked 44 times, the third-most in the regular season. The Broncos will force Wilson into taking sacks or taking too many chances and eventually a mistake.
Join the debate. Who covers in Super Bowl XLVIII: Seahawks or Broncos?