The New England Patriots may not be thinking about avenging their loss to the New York Giants in Super Bowl XLII, but you can bet their fans are. And we know G-Men supporters would like nothing more than to extend Tom Brady's Super Bowl losing streak and send him crying into Gisele's arms.
This is a rivalry and it's a good one.
We've enlisted the help of NFL team bloggers to help us get inside the heads of all the superfans out there and get some insight inside each club at the same time.
Russ Loede of
Patriots Gab
duels with Ed Valentine of the
Big Blue View
over how the Super Bowl will play out. You'll never believe it, but they differ on which team will be hoisting the Lombardi Trophy.
GIANTS BREAKDOWN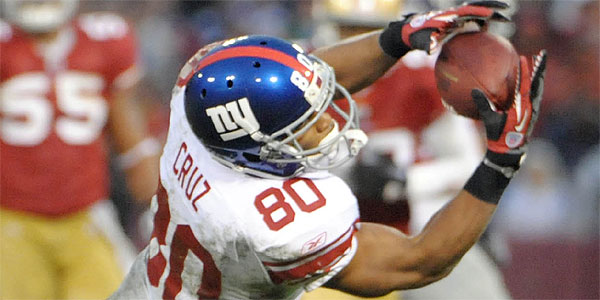 Ed Valentine writes for Big Blue View and SB Nation New York. You can follow them on Twitter @bigblueview.
Would it be smarter for New York to lean on the run more in order to keep Brady and the Pats offense off the field?
At this point you can't change who are you, and you don't want to. The Giants will try to maintain a balanced approach and try to run as effectively as they can. When it comes right down to it, though, the Giants have to get big plays in the passing game from Eli Manning and that terrific group of wide receivers. That won't change in the Super Bowl.

What worked well in their 24-20 win over New England in Week 9 and can the Giants do something similar in the Super Bowl?
Really it is all about pressure on Tom Brady. The Giants hounded him in the Super Bowl four years ago, and they were able to generate enough pressure to make him uncomfortable at times during the regular season matchup this season.
After allowing two TDs to Vernon Davis last week, how can New York slow down the Patriots TEs, who had 136 total yards and two scores against them in Week 9?
Good question. Maybe you just hope that Rob Gronkowski slows himself with his high ankle sprain and that New England keeps handing the ball to Aaron Hernandez instead of throwing it to him. Seriously, though, I think you may see the Giants single cover guys on the outside and use their safeties and linebackers to double-cover the tight ends or try to close down the lanes in the middle for Brady to find those tight ends.
Final score prediction and how the game plays out:
Giants 27, Patriots 24. This is a game between two quarterbacks with Super Bowl MVPs, and I would expect both to have great games. Giants and Eli get the last word, though.
PATRIOTS BREAKDOWN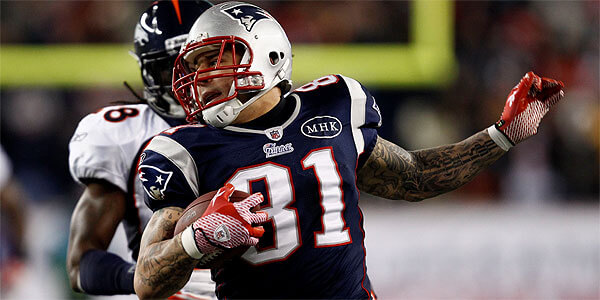 Russ Loede writes for Patriots Gab and NFL Gridiron Gab. You can follow them on Twitter @PatriotsGab.
If All-Pro TE Rob Gronkowski isn't 100 percent, how will New England change its offensive attack?

The plan will be to attack the Giants with different looks and to hurry up the play calls -- so the running backs don't have to hold up too long in protection. Also, expect a heavy diet of shotgun handoffs to keep the Giants' line honest when New England is running the football, and for the team to use motion from its wide receivers to help crack block the New York ends.
In the end, a gimpy Gronk means more pressure will be put on Matt Light and rookie Nate Solder, who has showed signs of becoming a Pro Bowl-caliber right tackle.

The secondary made plays against an average Ravens passing attack. Can New England have similar success against a red-hot Manning and Co.?
It's going to be tough because Hakeem Nicks and Victor Cruz make their money after the catch. You could play them as tight as you want but they will still find a way to make the difficult snag and then break a few tackles afterwards.
I don't know if you can play off of them and expect good results either, so the defensive backfield will need the linebackers to get physical and help them by jamming Nicks and Cruz. Anyway you draw it up, it's going to be a tall task for an undersized New England secondary that's very average.
The Giants got 5 sacks and 22 QB pressures/hits on Alex Smith. Can the Patriots offensive line hold up to that pressure and how?
They can and they will. Tom Brady gets the ball out fast and New England's passing routes aren't slow-developing ones.
Two things to keep in mind: Matt Light and Nate Solder will be the best 1-2 punch at tackle that the Giants have faced in the playoffs and the shotgun formation will give Brady extra time to make decisions.

Final score prediction and how the game will play out:
Patriots 27, Giants 22. It will be a close game but I have to give the edge to the Patriots because they take better care of the football. The Giants have caught too many breaks and I believe their luck will run out against a team that is well-equipped to play a turnover-free football game.