Brackets at this time of the year are usually reserved for March Madness. But thanks to EA Sports and ESPN's Sportsnation, "Madden Madness" is giving football fans a chance to vote for the athlete featured on the cover of the upcoming Madden NFL 25 – the most popular football video game franchise of all time.
And like any good bracket, betting makes it better. Oddsmakers at
CarbonSports.ag
have posted prop odds on each of the Madden cover contenders, which are split up into "Old School" and "New School" players.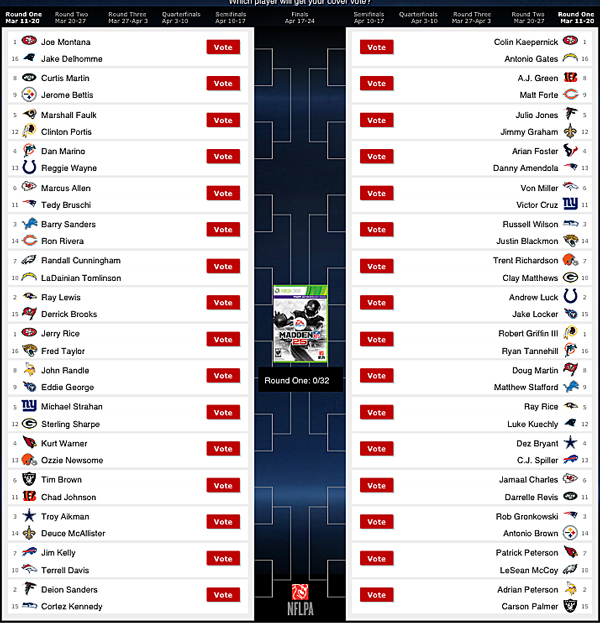 Among the favorites are famed San Francisco 49ers QB Joe Montana (+250), Minnesota Vikings RB Adrian Peterson (+500), Washington Redskins QB phenom Robert Griffin III (+600), and Detroit Lions Hall of Fame RB Barry Sanders (+800).
"This is obviously a very subjective event with little to no number crunching, we just set our odds on how we felt what gamers and Madden's fan would vote," Michael Stewart, an oddsmaker for CarbonSports.ag, told Covers. "But it's anyone's guess who will win the 25th Anniversary cover spot."
ESPN's Sportsnation has set up a tournament-style bracket online
, with legends on one side and current players on the other. Players are seeded and matched up with their counterparts, asking fans to pick their favorite and advance them to the next round.
Three 49ers players are tabbed as No. 1 seeds with Montana and former teammate WR Jerry Rice (+1,500) leading the "Old School" bracket, while current San Francisco QB Colin Kaepernick (+1,500) and Griffin are top seeds for the "New School" selections.
The first round of voting is currently underway and will continue until March 20. The second round goes until March 27, the third until April 3, the quarterfinals end on April 10, semifinals finish on April 17, and a winner and new Madden cover athlete is crowned on April 24. The game is scheduled for release on August 27.
Here is the full list of Madden NFL 25 cover odds available at
CarbonSports.ag
:
Joe Montana +250
Adrian Peterson +500
Robert Griffin III +600
Barry Sanders +800
Troy Aikman +1000
Russell Wilson +1000
Deion Sanders +1000
Andrew Luck +1000
Ray Lewis +1500
Jerry Rice +1500
Clay Matthews +1500
Ray Rice +1500
Colin Kaepernick +1500
Arian Foster +2500
Julio Jones +2500
Dan Marino +2500
Rob Gronkowski +5000
Marcus Allen +5000
Kurt Warner +5000
Marshall Faulk +5000
Michael Strahan +10,000
Tim Brown +10,000
Field (Any Other Player) +800