If you Google 'match fixing in soccer', you get about 1.5 million results and the first pages are littered almost entirely with recent headlines from around the globe.
Austrian top flight player admits to match-fixing attempts. FIFA bans 26 players worldwide over Italian match-fixing. Ex-soccer club owner denies match fixing. Global bans in Australian match-fixing scandal.
That's all within the last few months.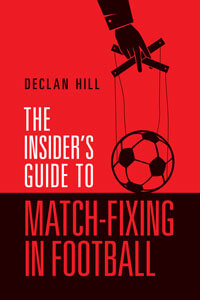 Why it's happening, how it's happening and who's doing it are the topics of the latest book of world renowned expert on the topic of match fixing Declan Hill entitled
The Insider's Guide to Match Fixing in Football, released Nov. 10 on Kindle
.
"There's a globalization of sports corruption out there," Hill said in an interview with Covers this week. "The same thing that happened with the music industry, travel industry – pretty much any industry you can think of – has ironically happened with the sports corruption industry."
The book is the result of research performed over years, which includes excerpts from his multiple databases like his Fixed-Match Database and Fixing/Non-Fixing Player Database. Some incredible data comes out of this study like the fact that 50 percent of match-fixing players Hill found were aged 29 or older. Fixed matches also tend to be higher scoring and perhaps surprisingly to some, red cards and own goals tend not to vary statistically between fixed matches and honest matches.
The databases also feature fascinating interviews and anecdotes from players, referees and 'corruptors' - those who orchestrate the fixing of matches.
Even with anonymity, it seems to beg the question why these people would talk to the author.
"The players and athletes have known about this for years and they're hungry for an honest journalist," says Hill. "As for the fixers, the Asian guys have impunity and they quite well know it."
Hill gives some jaw-dropping first-hand accounts that make the book a fascinating read. Like the time he was interviewing a reformed match-fixing player who was leaving his club after not getting paid for months. The player openly asked him for the phone number of a match-fixer in hopes of helping to fix a game for some fast cash.
These anecdotes are speckled throughout the book and provide a great storyline, but soccer punters beware: it will probably make you a little angry too.
"For bettors, (match fixing) is total anathema. The reason people put their money down is they're expecting players - be they injured, be they whatever - to be trying hard. That's what you make your bets on," says Hill.
Hill also gets into how the Asian betting markets work – where this corruption originates – from the hierarchy right on down to what the disguised neighborhood betting shops look like and the remarkably simplistic numbered betting tickets. It's a different look at the match corruption world compared to his book from 2010,
The Fix: Soccer and Organized Crime
, which primarily examined matches that were fixed and who was doing it.
"The first book was about two years ahead of everything else. It got very strong push back against its findings, you know 'the author must be a crazy guy' or whatever. Gradually with more and more police investigations coming out, the general public I think caught up with 'The Fix' and I think was a bit like: 'Oh OK, now we get it,'" says Hill.
"People are much more hungry and curious – 'what is going on here and how can we understand this properly?'"
This book definitely does that and is worth both the sports bettor's and academic's time.
Click here for the second part of Jon Campbell's interview with Declan Hill.