Johnny Manziel's tirade on Twitter this weekend has many college football fans thinking twice about the reigning Heisman winner and the Texas A&M Aggies.
College football bettors, however, apparently already have their minds made up about Manziel and the Aggies' chances against the spread.
Texas A&M has been a big "play against" team since the
Golden Nugget in Las Vegas released its college football "Games of the Year" odds
earlier this month.
The Aggies are favorites in all but two of their seven available contests but four of those games have had money on the other side move the line. Texas A&M has dropped from -17 to -15 at Arkansas in Week 5, from -24 to -22.5 vs. Auburn in Week 8, from -1 to -2 at LSU in Week 13, and from -13 to -12 at Missouri in Week 14.
And these adjustments came before Manziel tweeted, "Bullshit like tonight is a reason why I can't wait to leave college station...whenever it may be" this weekend.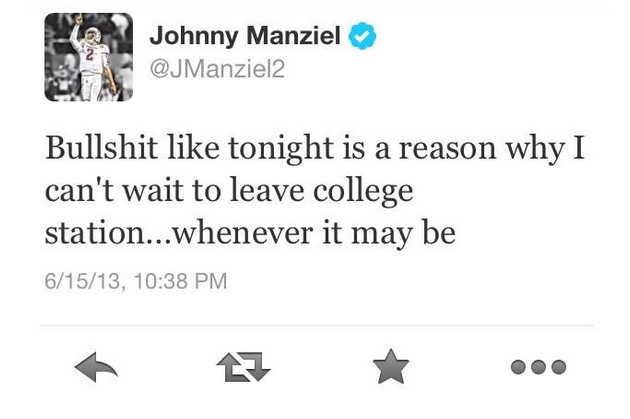 The tweet, which came across the social media wire in the dead of night Sunday (when nothing ever good happens), was later deleted from his account and followed by a quick damage-control statement, saying "Don't ever forget that I love A&M with all of my heart, but please please walk a day in my shoes."
Manziel has been on a Heisman tour since winning the NCAA's top individual honor this winter. He's been throwing out first pitches at MLB games, frequenting high-profile sporting events, giving fist bumps to celebrities and stirring up plenty of buzz with online pictures of him and half-naked co-eds.
We, the sports bettor, aren't complaining. But we will the second Manziel's ego begins to cost us money.
Texas A&M has been the most popular BCS Championship futures play this offseason
(+1,200) and is currently priced at +650 to win the SEC – tied with LSU and behind Alabama (-125), Georgia +300 and South Carolina (+500).
Manziel's apparent anxiousness to get out of college and earn pro bucks could have the 20-year-old sophomore's focus slipping before this season.
Just look at what happened to former USC quarterback Matt Barkley, a surefire No. 1 selection who struggled with the pressure in his final year and dragged bettors down with him to the tune of a 3-10 ATS record.
Is this weekend's flash of prima-donna attitude just a social media blunder after a few too many underage pops or is it a crack in the dam and a sign of things to come from the kid they call "Johnny Football"?