It was a day Green Bay Packers bettors surely haven't forgotten.
Sept 24. Monday Night Football. Seattle Seahawks QB Russell Wilson connected on a 24-yard touchdown pass with Golden Tate as time expired as host Seattle stunned Green Bay in one of the most controversial finishes in NFL history.
With the Seahawks facing a fourth-and-10, Wilson scampered around before lofting a pass to the corner of the end zone. Tate pushed off on a defender before M.D. Jennings nearly reeled in the ball, but the wide receiver was able to secure enough possession.
The ruling on the field was a touchdown even though two replacement officials standing side by side called it differently - one waved his arms as if to begin ruling it a touchback following an interception in the end zone. The regular referees returned to duty shortly thereafter because of the public outcry.
The Seahawks covered as 3-point underdogs, much to the dismay of Green Bay bettors.
Well, Tate reconnected with Lance Easley, the replacement official that gave him the favorable call, this past weekend at a charity softball game and they even had time to pose for a photo just to rub it in the faces of Green Bay backers.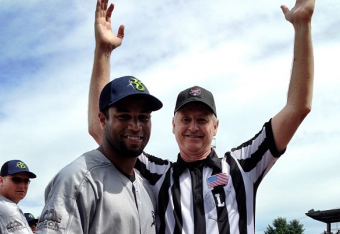 Photo courtesy of Lawyer Milloy's Instagram account.
"I'm here for charity, and I would do the same for [Packers] charities," Easley told The (Everett) Herald. "I have no ill will against any team, I'm not a Seahawk fan, I'm not a Green Bay fan. I stopped being a fan years ago."
The Seahawks and Packers will clash again in Week 3 of the preseason on August 23.