The wait is over and the BCS National Championship is finally here. The No. 1 Florida State Seminoles and No. 2 Auburn Tigers meet in Pasadena, California to determine who the best team in the country is.
Expert NCAAF bloggers Jack Jorgensen, of the blog "
ChopChat
"and Acid Reign of the blog "
TrackemTigers
" strap on the pads and butt heads over which team not only wins but covers in the BCS National Championship: Florida State or Auburn?
WHY FLORIDA STATE WILL COVER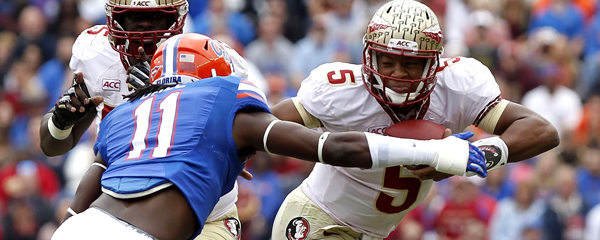 Jack Jorgensen is the college football editor of Chop Chat You can follow them on Facebook and Twitter @JackJ14CFB.

Most explosive offense in the country
While a lot of the focus is on the fast-paced, spread style that Gus Malzahn has instilled with the Tigers, Florida State actually has the better overall offense on the field Monday. That's not just because of Jameis Winston either. They have a strong three-deep at running back with Devonta Freeman, James Wilder Jr. and Karlos Williams - who has made a remarkable switch over from safety earlier this season.
They may also very well have the best trio of wideouts that Winston has had the pleasure of working with in Kenny Shaw, Kelvin Benjamin and Rashad Greene. You couple all of that with the fact that FSU has a offensive line that keeps Jameis upright nearly at all times - that's something that Auburn has not even come close to seeing this season, not even from Alabama.
Florida State Defense is Built to Stop Auburn
Jeremy Pruitt came over from Alabama before this season to be the 'Noles' defensive coordinator. With the athleticism he was given, he has built the top defensive unit in the country, but more importantly, they're built to stop a fast-paced team like Auburn.
The linebackers are among the most athletic that you will find and the secondary very rarely lets anything or anyone get behind them. It will be about as difficult as it can be in this game for Nick Marshall and Tre Mason to find some open space to work with.
Jameis Winston vs. the Auburn Defense is a Complete Mismatch
Even after a full season, people still haven't learned that Jameis Winston does not become affected by pressure. In actuality, the more you pressure him, the better he gets. All you have to do to see that is go back and watch the Clemson game. For a month people have been talking about Auburn showing Winston the most pressure he's seen, which is not a good thing for the Tigers.
And as far as the Auburn secondary goes, that may be the worst unit on the field for Auburn. They will not be able to keep up with the trio of FSU wide receivers and Jameis may have himself a field day in this one.

WHY AUBURN WILL COVER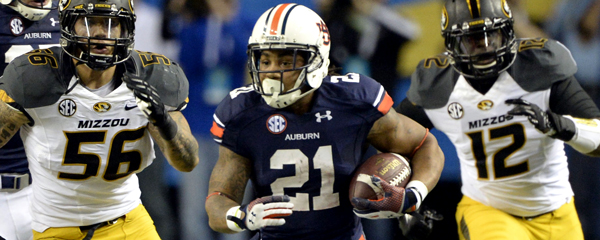 Acid Reign is a writer for TrackemTigers. You can follow them on Facebook and Twitter @TrackemTigers
.
An unstoppable rushing attack
Many talking heads thus far speculating on this matchup have Florida State's third ranked in the ACC rushing defense shutting Auburn's attack down. Tiger fans have heard this mantra on a weekly basis for the second half of the season. First, it was Arkansas who was good against the run. Then Georgia. Then it was Alabama's top ranked defense that would apply the brakes.
Missouri had the second ranked defense against the run coming into the SEC Title game and in just one game against Auburn they dropped all the way to ninth. No one has been able to slow the Auburn rushing attack, and FSU likely won't, either.
A relentless pass rush
Florida State's mammoth offensive line has not seen a defensive line with the speed and depth Auburn will present up front. Furthermore, Jameis Winston is less mobile than many of the quarterbacks Auburn has faced, such as Dak Prescott, Bo Wallace, James Franklin, and Johnny Manziel.
Auburn typically rotates 10 to 12 linemen throughout the game, and keeps fresh legs in. Auburn has worn offensive lines down in the 4th quarter in nearly every game.
Bigger and stronger
Florida State's back seven defenders are fast, but it's a weight mismatch on paper against Auburn's lead blockers. Christian Jones is FSU's heaviest linebacker, at 235 lbs. Terrence and Tevin Smith are listed at 215 and 218 lbs respectively. They will have to deal with Tiger tight ends and h-backs who are much bigger. Jay Prosch weighs in at 258 lbs, C. J. Uzomah is 258 lbs, and Brandon Fulse is 263 lbs.
Florida State's secondary is likewise on the light side, with no starter weighing over 200 pounds. Florida State will have a tough time handling Auburn's blockers and powerful backs down the field.
Join the debate. Who covers in the BCS National Championship Game: Florida State or Auburn?