Of all the bizarre pieces of gambling advice that are floating around out there, this inexplicably popular gem ranks among the most baffling:
Never lay more than -150 on a baseball game.
This one seems downright ubiquitous this time of year, with the baseball season under way. It happens every spring, you could say.
My response: Huh? What if the line is -160, you're a good handicapper, and you made it -210? That looks to me like an edge against the house of better than 8 percent — not bad for a few hours' work.
Often this bogus advice includes an admonition that if you're laying -150 you have to hit more than 60 percent winners to turn a profit.
Those of us in the reality-based community regard that as an example of an error in logic known as a "red herring fallacy." In other words, it's factual, but not relevant to the discussion at hand.
If I'm offered, say, +250 on something that has a 40 percent chance of happening, obviously I'd be all over it.
Likewise, given the opportunity to lay -300 on something that has an 85 percent chance of happening, I'd likely take it. It doesn't matter if it's a baseball game, a political election, an NBA or NHL playoff series, a Jon Jones MMA fight or a Floyd Mayweather Jr. boxing match.
This basic strategy is particularly relevant with the 16th season of the WNBA set to begin May 18 after an exhibition slate that tips off Saturday. Heavy favorites performed well in the WNBA last season, and gamblers will be watching to see if the trend continues.
Typical sports bettors might or might not care about women's basketball. (As a personal aside, I have fond memories of covering women's hoops for my college newspaper, traveling from the East Coast to exotic distant lands like Long Beach, Calif., for NCAA tournament games.) But you can be sure they have a keen interest in mastering a league that commands a small betting market, where a talented specialist can play with a decided advantage against the house.
The WNBA has drawn criticism throughout its tenure for a lack of competitive balance. There are indications that situation is improving, but mainly on a season-over-season basis. Within an individual season, signs of an imbalance remain.
The pointspread serves as the great equalizer in all of the major betting sports. Look at the Toronto Raptors this past season, for example. They finished 23-43 straight up but managed to go 37-28-1 against the spread. The jury is out on whether this idea applies to niche leagues like the WNBA. Consider:
— Four of the 12 WNBA teams had losing records, straight up: the Chicago Sky, the Washington Mystics, the Los Angeles Sparks and the Tulsa Shock. Against the spread, those four teams combined to post a record of 57-76, or 42.9 percent against the number. There's no evidence of an equalizer there, but there is evidence the league still includes a few hopeless cases, straight up as well as ATS.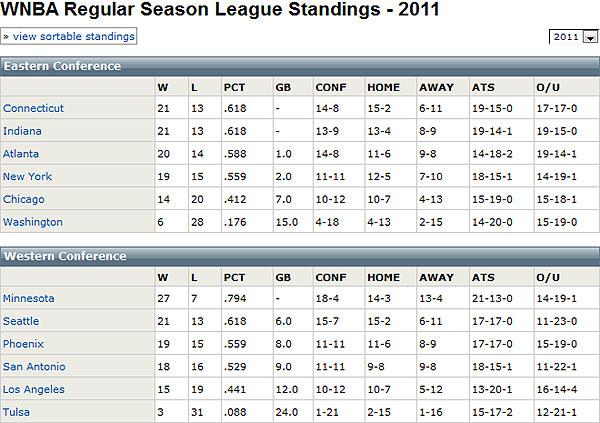 — In games in which one team was favored by -300 or better on the moneyline during last year's WNBA season, betting enough to win one unit on each favorite would have yielded a profit of approximately 18 units. Even in lopsided matchups, moneylines typically were not set high enough.
Does that mean you should blindly bet big favorites in this or any league? Of course not. It does mean that until further notice, any perceived value with big betting underdogs in the WNBA could be illusory. Focusing on small underdogs and money-line favorites could be the way to go.
As an aficionado of gambling history, I'm a big fan of the old book titled "The Caesars Palace Book of Sports Betting." Written by Bert Randolph Sugar in a lively and entertaining style, it's sprinkled with funny references ranging from Firpo Marberry and Christy Mathewson to "Ashburn's Ridge" at Shibe Park and Bill James.
Much of the information is outdated, as you would expect from a 20-year-old instructional book. The following passage still rings true, however, succinctly slicing through the pervasive fog of nonsensical gambling advice:
"Look for games in which your evaluation of [the relevant] stats produces a line that is lower than the price on the board. You won't win them all, but you will win enough — and at attractive prices — to realize a good profit."
*