Classic division rivals on opposite ends of the NFL power rankings collide on Monday Night Football, when the Oakland Raiders visit the Denver Broncos in Week 3. Oddsmakers have set the Broncos as lofty 15.5-point favorites.
In order to get a better grasp on this AFC West war, we've enlisted the help of those who know these teams the best. Experts NFL bloggers Kirk Davis of Broncos blog "
Bronco Planet
" and Marcus Allen Krause of Raiders blog "
Silver And Black Pride
" strap on the helmets and butt heads over which team will not only win but cover the spread on Monday Night Football.
WHY OAKLAND WILL COVER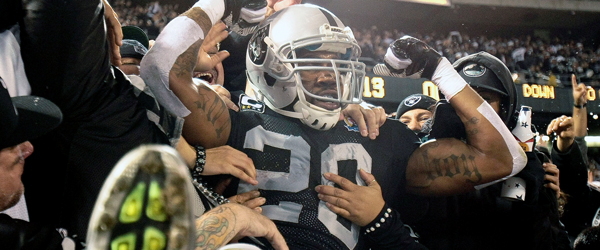 Marcus Allen Krause writes for Silver And Black Pride. You can follow them on Facebook and Twitter @silverandblackp.
Broncos' depleted offensive line
Manny Ramirez will be tested by Raiders big man Pat Sims early and often and Peyton hates pressure up the middle. Besides the unknown quantity at center, the Broncos also have an injured Ryan Clady, who is a franchise caliber left tackle. Clady is going to be missing this game which weakens their line against the Raiders best lineman Lamar Houston, who can be quite the handful. Manning is amazing but even he gets rattled if you hit him enough times.
Benefit of surprise
Nobody expects the Raiders to do well in this game. What people don't realize is that doubt can be a powerful weapon. The Broncos will underestimate the Raiders and that could come out and bite them. The Raiders are often looked at as a laughingstock but they have enough talent to surprise the unsuspecting. Many battles in war have unexpected results due to the benefit of surprise, just ask Sun Tzu.
Charles Woodson
Charles Woodson has a winning record against Manning in his career. He is 2-1 in regular season games against him and 1-0 against him in Heisman races. It may have been back in 1997, but I'm sure both players still remember that victory for Woodson.
Chuck has this defense playing confidently and has some unfinished business with Denver after he felt their offer in free agency wasn't up to par. He's the type of veteran that can provide the insight needed to defeat the Peyton Mannings of the world and he's eager to show he still has some gas left in the tank. His flying tackle of Maurice Jones-Drew last Sunday proves he's still a weapon and his play this week will make the Broncos regret not upping their offer.
WHY DENVER WILL COVER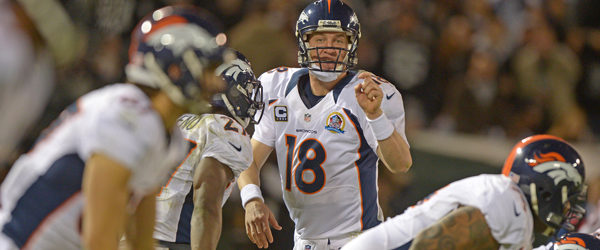 Kirk Davis writes from Bronco Planet. You can follow them on Facebook and Twitter @broncoplanet.
Manning magic
Three reasons? How about three words. Peyton. Freaking. Manning. No one is talking about his neck anymore. They're more likely talking about what a pain in the neck he is for opposing defenses. Peyton has thrown nine touchdown passes in the first two games. More importantly, he hasn't thrown an interception.
Manning has four weapons that can't all be covered. There isn't a defensive backfield in the league that can cover Demaryius Thomas, Wes Welker, Eric Decker and Julius Thomas. If there is, Knowshon Moreno can catch too.
Ground zero
The Broncos have the top-ranked rushing defense, allowing a paltry 40.5 yards per game. The Raiders have the No. 1 rushing offense, with 198.5 yards per game. If the Broncos can hold Ray Rice to 36 yards, Darren McFadden will have a difficult time.
The Raiders will have to rely on Terrelle Pryor to create space and Denver will take that matchup any day of the week. The Raiders will be forced to pass in this game because the Broncos will be up by two touchdowns and Oakland will need to play catch up.
History lesson
The Broncos have won the last three meetings. They are averaging 45 points a game and giving up 25. Oakland is putting up 18 points per game and giving up 15. Denver could cover the spread if it were 20 points.
Join the debate. Who covers Monday night: Oakland or Denver?