The BCS Championship Game is shaping up to be the biggest college football title matchup in history, with the defending national champs taking on one of the most storied programs in the history of the game.
Oddsmakers have set Alabama as a 9.5-point favorite versus Notre Dame Monday night. In order to get the inside scoop on both sides, we've enlisted the help of each teams' expert bloggers. D.K. Miranda from
IBleedCrimsonRed.com
and ND Editor from
NotreDameFootballSchedule.net
put on the pads and debate which team – Alabama or Notre Dame – will cover the spread in the BCS Championship.

THREE REASONS ALABAMA COVERS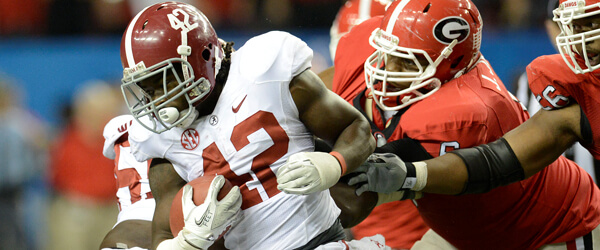 D.K. Miranda writes for IBleedCrimsonRed.com. You can follow them on Facebook and Twitter @LivingCrimson.
Offensive balance
Notre Dame has not yet faced an offense as explosive as Alabama. Tide rushing ranks sixth nationally in yards per carry and 14th in scoring, and its passing ranks third nationally in yards per attempt and second in touchdowns per attempt. Notre Dame's best rushing opponents' YPC rank 22nd and 26th; best passing opponents' YPA rank eighth and 22nd. Bama is 16th nationally for touchdowns in the red zone and has the only kicker in the nation perfect for field goals and extra points.

Rushing wears down defenses
Notre Dame has a tough front seven, but Alabama's outstanding offensive line along with its multiple-tight end packages wear down any front. Georgia's defensive line depth is about equivalent to the Irish. The Bulldogs were clearly gassed in the second half of the SEC Championship Game as the Tide set historical rushing numbers. Bama's running backs initiate contact and hit like linebackers, so defenders take a brutal beating over 60 minutes. Alabama has rushed for 150-plus yards in four SEC and BCS championship games since 2009.

Big game advantage
Alabama has won 18 non-conference games in a row under Nick Saban, including six ranked in the Top 25. The Tide is 4-1 in championship games, winning the SEC in 2009 and 2012 and the national title in 2009 and 2011. Saban is going for his fourth national title in 10 years, resulting in his big game preparation being honed to a science. Nick Saban is 5-3 ATS as a favorite in bowl games. Brian Kelly is 1-4 all-time ATS in bowl games.
THREE REASONS NOTRE DAME COVERS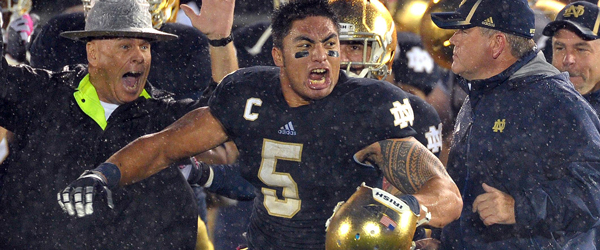 ND Editor writes for NotreDameFootballSchedule.net. You can follow them on Facebook and Twitter @NDFBsched.
Winning attitude
If Notre Dame shows up loose and not just happy to be there, they could throttle Alabama. Actually, everyone at Notre Dame believes the Irish are a year away and that 2013 will be a lights-out season with Everett Golson finally running the up-tempo Kelly offense of lore. The attitude comes from Manti Te'o. This kid can actually will the Irish to a win. He creates an atmosphere that Notre Dame simply can't lose and that is infectious. Expect a big game by Te'o as well as Louis Nix in the middle with the guys in the backfield all jacked up.
Golden Golson
I look for Notre Dame to slowly take over the game in the second half. It all boils down to Golson. If he plays lights-out - no fumbles or picks – Notre Dame can eke out this game in the fourth quarter. Tight end Tyler Eifert could be big but the real shocker for Alabama would be Cierre Wood catching passes for big yardage. The Irish offensive line just needs to hold its own most of the game and frustrate Bama's rush. If the Irish go up-tempo this could be fun. Alabama just does not like a fast-paced opponent.

Pass rush
There is a lot more to the defense than just Te'o and Nix. On the defensive line, there is also Tuitt and Kap Moore and don't be surprised if Tuitt moves over center on occasion to further test Bama's center. If Barrett Jones is struggling with his foot injury, Tuitt could maul him. The main thing for this defense is to get to the QB whatever way they can. If I was running the defense, McCarron would be hit every play. I think Saban will want to get ahead fast on Notre Dame through the air, so the Irish shouldn't bite on the play action. To quote Buddy Ryan, "Just kill the QB and you can't lose".

Join the debate. Which team – Alabama or Notre Dame – covers the spread Monday night?