Monday night's AFC West battle between the Denver Broncos and San Diego Chargers is as close as it gets, with the pointspread teetering on a pick.
To help get a better handle on this divisional rivalry, we've enlisted the help of each teams' expert bloggers to breakdown why their side will not only win Monday, but cover the spread.
Kirk Davis of Broncos blog "
Mile High Report
" and John Gennaro of Chargers blog "
Bolts From The Blue
" strap on the helmets and butt heads in our weekly Monday Night Debate.
THREE REASONS WHY DENVER WILL COVER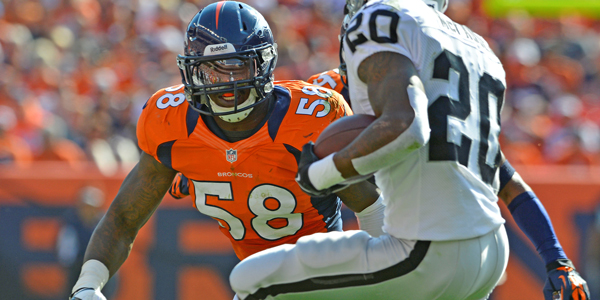 Kirk Davis writes for Mile High Report. You can follow them on Facebook and on Twitter @MileHighReport.
The numbers
The Broncos out-match San Diego in every statistical category, except the run. The Chargers have played an easier schedule, their opponents' record is 9-15, while the Broncos' opponents have a 16-7 collective record.
The common opponents between the two are the Oakland Raiders and the Atlanta Falcons. San Diego beat the Raiders 22-14 on the road and Denver defeated Oakland 37-6 at home. Both teams lost to the undefeated Falcons, but the Broncos put up 21 points in Atlanta and the Chargers only managed a field goal against them at Qualcomm. Denver has won two of past three games in San Diego.
Air assault
Peyton Manning is 11-4 on the Monday night stage, with a 96.3 passer rating. Currently on a red-hot streak, he has passed for at least 330 yards in the last three weeks and has eight touchdowns and no interceptions in that time.
Manning was 4-5 against the Chargers as a Colt, but he has a better supporting cast than he did in Indy. Wide Receivers Demaryius Thomas and Eric Decker have the most catches for a starting tandem in the league.

WMD
The Broncos' "Weapons of Mass Destruction," - or Derek Wolfe, Von Miller and Elvis Dumervil - will take advantage of the Chargers' weakened offensive Line, that has allowed a little over three sacks per game. San Diego quarterback Philip Rivers has done exceptionally well under pressure so far, but they haven't faced the Broncos pass rush. Rivers can be rattled.
FINAL SCORE PREDICTION:
Denver 31, San Diego 24
I see the Broncos taking the lead on their first two possessions and controlling the clock by pounding the Chargers defense into submission. With the lead, San Diego will be forced to forget about running Ryan Mathews and the Broncos pass rush will attack Philip Rivers.
THREE REASONS WHY SAN DIEGO WILL COVER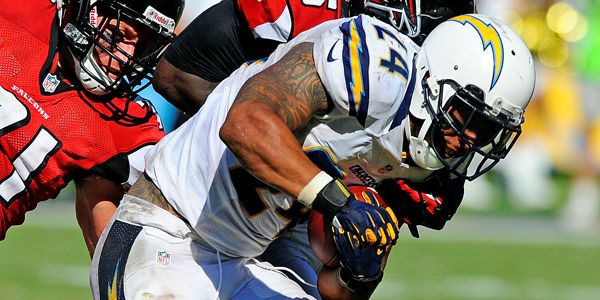 John Gennaro is the managing edit for Bolts From The Blue. You can follow them on Facebook and Twitter @BFTB_Chargers.
Run Ryan run
I'm going to predict a coming-out party for Ryan Mathews (for the second week in a row, I'm making this prediction). I think he takes over this game on the ground and as a receiver out of the backfield and leads the Chargers to a 5-plus point victory on Monday Night Football.

Picking on Peyton
Throughout his career, Manning has struggled more against the Chargers than any other team in the league. His 72.5 career QB rating against them is the lowest for him against any team. He's thrown 16 interceptions against 12 touchdowns in seven career games against the Chargers.

Chargers run defense
This game will come down to the San Diego defense against the Denver offense. Peyton Manning will try and dominate things with a high-speed, no-huddle offense, but the Chargers' run defense is so good that they should be able to counter by making the Broncos one-dimensional and then maybe get pressure on Manning.
FINAL SCORE PREDICTION:
N/A
Just like Las Vegas, who has this as a pick 'em game with no spread despite it being in San Diego, I believe that the Denver Broncos are currently the better team heading into tonight's matchup. However, the Chargers - as always - have lot of potential that they've yet to tap into that could come out at any moment.