Reed Kuhn writes for MMAOddsbreaker.com and fightnomics.com.




UFC light heavyweight title fight: Chael Sonnen (+665) vs. Jon Jones (-965)



Regardless of how excited - or not - Jon Jones may be about this, the UFC light heavyweight title is going to be on the line at UFC 159. Jones will defend his title against former Middleweight title contender Chael Sonnen after a refreshingly awesome 17th season of the Ultimate Fighter.
Jones (17-1) is already 11-1 in the UFC and is making his fifth title defense since his TKO finish of Shogun Rua in 2011. During his reign thus far, the 25-year old champ has finished five opponents in title bouts, with only one decision (a dominant one) against Rashad Evans. It's easy to see on paper why Jones has been so successful.
Boasting the longest reach in the UFC, "Bones" Jones has been very effective in using his unique physical attributes. He has a very accurate jab, excellent striking defense and outworks his opponents by averaging 30 percent more strikes while standing and trading. These are all signs of a strong use of reach.
On the ground, however, is where Jones has shown his best skills. With legitimate wrestling credentials, Jones has translated his reach into one of the most dangerous submission arsenals in the game. His limbs can wrap up submissions other fighters can't find from similar positions. Having scored five UFC submission victories, his two most recent even came against Brazilian jiu-jitsu black belts.
Sonnen (27-12-1) is strapping on an extra 20 pounds for his return to the light heavyweight division, and what is likely his last chance for UFC gold. At the age of 36, it's also safe to assume that retirement from fighting may be lurking if this fight doesn't go his way.
Bettors should never underestimate the man who won four rounds against Anderson Silva, and got past challenges of Brian Stann and Michael Bisping to get earn a second title shot at the pound-for-pound best. There's no shame in losing to Anderson Silva, even twice.
Those middleweight fights exemplified the skills that Sonnen brings to the cage, namely wrestling and tenacity. Though his standup striking skill metrics are below average, he throws a high volume attack that sets up an effective clinch game and ultimately takedowns.
Once the ground, Sonnen focuses on striking and outstrikes opponents 7:1. By this dominating method of control, Sonnen tends to win a lot of rounds and decisions. But if you live by the sword, be prepared to die by it. Sonnen's clearest weakness is his submission defense and he's been submitted five times in the WEC and UFC.
The shining example of this paradox was his first fight with Anderson Silva, where he won four straight rounds, only to fall into a triangle choke at the end of the fight. MMA bettors are faced with another five-round fight with an even more dangerous grappler in Jones.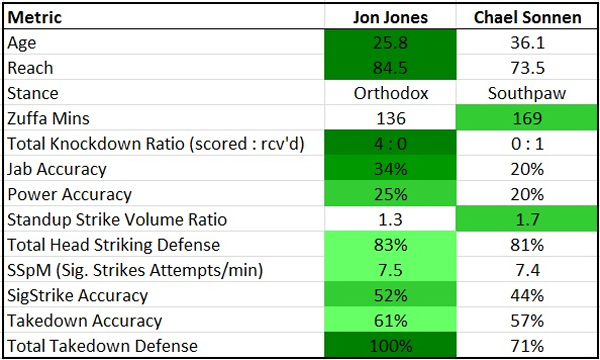 Based on statistical advantages alone (mainly age and reach), Jones has at least a 70 percent chance of victory. But layer in Sonnen's typical plan of attack to push forward and get top position on the ground to grind out rounds, and all of a sudden Jones' ranginess and submissions skills look like the perfect counter.
Though it may take a round or two to develop, look for Jones to frustrate Sonnen by landing shots from the outside and stifling Sonnen's attempts to clinch and drag this to the floor. In transitions, Jones can lock in a submission from anywhere. Even if Sonnen becomes the first fighter to ever score a takedown on the champ, Jones can still use sweeps and attack from his back.
The eventual finish is more likely to come from a tap rather than strikes, and that tap may also signify the last move Chael Sonnen ever makes inside the Octagon. Don't worry though, we'll see - and hear - plenty of best talker in MMA in broadcasting down the road.
Check out MMAOddsbreaker.com for insight into all of UFC 159's bouts. Find the latest MMA odds here.