The odds for Monday night's game between the Chicago Bears and San Francisco 49ers were delayed due to injuries to starting quarterbacks on either side.

Now that the injury news has been updated – Jay Cutler and Alex Smith both out- and the spread has been set (San Francisco -5), it's time to size up which team will cover in Week 11.
We enlist the help of each teams' expert bloggers to get a better handle on this marquee matchup. Adam Oestmann of Bears blog "
Chicago Bears Huddle
" and David Fucillo of 49ers blog "
Niners Nation
" strap on the pads and debate who will cover the spread Monday night.
THREE REASONS WHY CHICAGO WILL COVER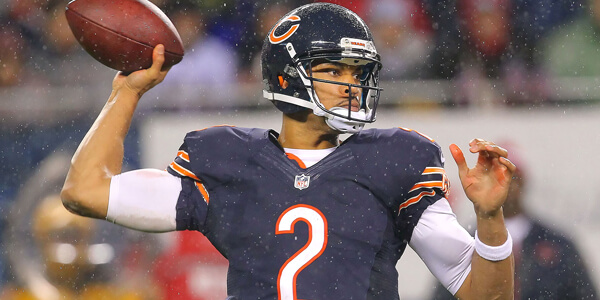 Adam Oestmann is the managing editor for Chicago Bears Huddle on ChicagoNow. You can follow them on Facebook and Twitter @BearsHuddle
.
Campbell forces offense to improve... by default
As of late, it's felt like Mike Tice is trying to force the Bears into becoming one of the elite, high-flying showboats in the NFL - and they simply aren't that. The Chicago offense has looked its best when the plan focused around Matt Forte. Without Cutler, and given Jason Campbell's skill set, I expect the Bears to force the issue with Forte, spelling him with Michael Bush and using Campbell-to-Marshall on play action.
Alshon Jeffery likely to return
The Bears' receiver situation was much worse than most fans realized last season. When your team's RB is also their leading receiver, it might be a hint that you don't need just a No. 1 wide receiver; you need a No. 2, a No. 3, and a tight end. Rookie receiver Alshon Jeffery looked to be a solid option opposite Brandon Marshall early on but has been sidelined with a broken hand since Week 5. Early indications are that he will go, barring a setback, against the 49ers on Monday night. He should provide Jason Campbell with a second legitimate red-zone threat.
Bears' defense is scary
What the Bears have done defensively is borderline historic. They are on pace to shatter the NFL's interception returns for touchdowns record by five. They get after the QB, they stop the run, and their secondary has shut-down potential. San Francisco is no slouch either, but Rod Marinelli's crew has yet to fail this team and has put them in a position to win every single football game. How can I expect anything less Monday night?
THREE REASONS WHY SAN FRANCISCO WILL COVER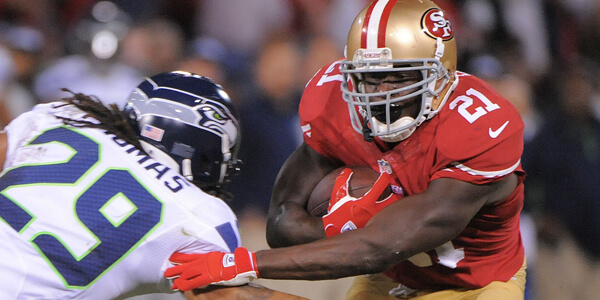 David Fucillo writes for Niners Nation. You can follow them on Facebook or Twitter @NinersNation.
QB situation
The 49ers have reportedly made a surprising late change, as ESPN's Chris Mortensen is reporting Alex Smith is out for Monday Night Football. This leaves us with a matchup of Colin Kaepernick and Jason Campbell. The 49ers' chances of covering could still be solid as it is likely more difficult for the Bears to prepare for the difference between Smith and a more athletic Kaepernick than the 49ers preparing for Campbell over Cutler. Kaepernick is making his first career start, so it really is a guessing game, but I'll remain optimistic.
Bay Area aura
The 49ers have claimed seven straight home games against the Bears in a series that has seen home teams control things. The home atmosphere at Candlestick is electric and a Monday night crowd for a potential playoff preview will be a raucous affair at the Stick. With Jason Campbell making his first start in some time, this should benefit the 49ers.
Ground and pound
Each team rolls out a running back duo that provides different traits, depending on who's carrying the ball. The 49ers have an edge with Frank Gore and Kendall Hunter thoroughly dominating, averaging 1.4 yards per carry more than the Bears. The winner of this game will be the team that establishes the run. I think the 49ers are the team that can do that on Monday.

Join the debate. Who covers - Chicago or San Francisco - Monday night?