Monday Night Football comes to "The House That Jerry Built" in Week 4. The Chicago Bears visit the Dallas Cowboys, who oddsmakers have tagged as 3.5-point home favorites.
We put the gloves on each teams' expert blogger and let them fight over which side will cover the spread in this primetime matchup. Adam Oestmann of Bears blog "
Chicago Bears Huddle
" and K.D. Drummond of Cowboys blog "
Blogging The Boys
" join us for our Monday night debate.
THREE REASONS WHY CHICAGO WILL COVER
Adam Oestmann is the managing editor for Chicago Bears Huddle on ChicagoNow. You can follow them on Facebook and Twitter @BearsHuddle
.
Bears' defense is playing lights-out
The Bears' defensive line currently leads the NFL in sacks with 14 through three games. Chicago's front four are finally taking advantage of the attention garnered by Julius Peppers, and the pressure is coming from all sides. When the Bears get pressure, that Tampa-2 comes alive.
The Bears' secondary is playing opportunistic football and currently ranks second in the NFL with nine takeaways. Cornerback Tim Jennings owns four of those nine, and he leads the NFL among defensive backs. Through three games, quarterbacks throwing at Jennings have an average 4.9 (yes, you read that correctly) passer efficiency rating.
Cutler is due to bounce back
Despite a strange aversion to Thursday Night Football, Jay Cutler has excelled on Monday Night Football, having won four of five starts. In those games, he's thrown for 11 TDs and three interceptions while compiling passer ratings of 108.4, 82.5, 106.6, 99.6 and 96.9. Cutler has also been known to bounce back following a series of offensive struggles, which he and the offensive unit have had in two of their last three. I think he explodes back onto the scene down in Dallas Monday night.
Big-play potential

The Bears have yet to see some of their most potent weapons on offense make an impact. Sooner or later, they will. Devin Hester's talent in the return game and Matt Forte's versatility and big-play potential will not stay contained forever. Forte is coming off an ankle injury heading down to Dallas, but all indications are that he could very well play Monday night. If he does, the Bears have too many options in Forte, Bush, Hester, Marshall and Jeffery for the Cowboys to stop them all.

FINAL SCORE PREDICTION:
Chicago 20, Dallas 16
This won't be any easy victory for either team and the Bears are definitely facing a tough opponent against a stout defense that can stop the run and get after the quarterback. Jay Cutler's been sacked 11 times this season, and he'll need to keep some plays alive with his feet on Monday night, but that's when Jay really has the potential to get in a groove. The Bears' offense will come alive on enough big plays down field to outscore Tony Romo and Co. in a defensive battle down in Dallas.
THREE REASONS WHY DALLAS WILL COVER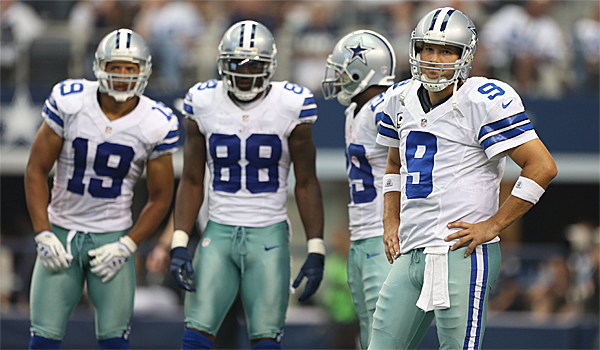 K.D. Drummond writes for Blogging The Boys and SB Nation Dallas. He can be followed on Twitter @KDP10For10 and @BloggingTheBoys.

Good vs. Evil
It's the battle of the horrible offensive lines. Neither Tony Romo or Jay Cutler has much in the way of protection these days. But it's obvious to anyone watching that Romo does a much better job of handling the pressure (in his face and of the situation) than Cutler does. Romo would have every right to flip out on his teammates in the same way as Jay, but he chooses not to. Thus, his teammates are more likely to exert the extra amount of effort necessary to come through for Tony in a tough game. Intangibles can always be laughed away by stats-only guys, but Romo's the better man and it counts for something.
The difference is…
Turnover differential is often used in retrospect when evaluating whether a team is a winner or loser. The truth is, turnovers often have very little to do with the team that gets them and everything to do with the team that gives them up, especially interceptions. Chicago is tied with Philly for the league lead in interceptions with six. Combine that with the fact that Dallas is the stingiest team in the league so far in yardage allowed and the Cowboys should finally be able to gain a significant advantage in the field-position battle.
Dallas is more advanced
There are two key advanced statistics that help explain why a team is better: One predictive (Net Yards Per Attempt Differential) and one descriptive (Passer Rating Differential). Dallas comes out on top in both. Net YPA measures how many yards are gained per passing attempt, factoring in sack yardage lost. Dallas currently ranks third in the NFL with a whopping 2.2 yard difference. Think about that: For every pass play, Dallas earns an extra two yards more than their opponents. The Bears aren't bad, but rank 10th at just over a half a yard difference. Dallas also boasts a positive Passer Rating Differential good for 14th overall while Chicago is in the negative and ranked 20th. See, Dallas is more advanced.

FINAL SCORE PREDICTION:
Dallas 24, Chicago 17
The under is 7-0 for the 2012 season in weeknight games. Non-NFC East teams are now 1-4 straight up and 2-3 ATS on the road in weeknight games. You can expect Dallas to cover the 3.5 points and keep the Bears offense stifled for a nice and tidy home victory.
Join the debate in the comment section below. Who will cover the spread Monday night?