This Monday Night Football matchup was shaping up to be one of the most exciting contests of the season – back in September.
Since then, the wheels have fallen off the Philadelphia Eagles and the Carolina Panthers have failed to meet their lofty expectations. Now, both teams' coaches are sitting on the hot seat and likely won't survive a loss on national TV.
In order to get a better handle on this game, we enlisted the help of Jesse Collin of Carolina blog "
Panthers101
".
We usually have another expert blogger go to bat for the opposing team but no one wanted to step up for the slumping Eagles this week – and who can blame them? So, associate editor Jason Logan makes a case for Philadelphia +3 Monday night.

THREE REASONS WHY CAROLINA WILL COVER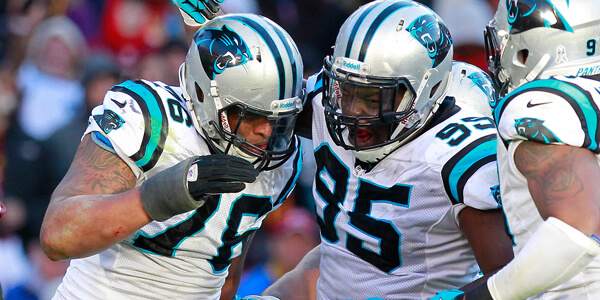 Jesse Collin writes for Panthers101. Follow them on Facebook and Twitter @Panthers_101.
Pass rush will dominate
With a combined 15.5 sacks, defensive ends Charles Johnson and Greg Hardy are emerging as one of the premier pass-rushing duos in the NFL. Meanwhile, the Eagles' offensive line is in shambles after losing three starters. The patchwork group has surrendered 22 sacks over the team's six-game losing streak, including seven against the Saints. A rookie quarterback behind a porous offensive line typically doesn't yield good results.
McCoy's absence will be felt
A strong ground game is a rookie quarterback's best friend. Normally, LeSean McCoy would be a more than adequate crutch for Nick Foles to lean on, but the fourth-year running back will be in street clothes as he deals with a concussion. Rookie Bryce Brown will make his first NFL start in his place. McCoy is the most explosive weapon in the Eagles' arsenal, and his absence will be a huge blow to an already anemic offense.
Turnover battle favors Panthers

The Eagles have been plagued by turnovers all season. Only Kansas City has a worse turnover margin than the Birds, who have more than twice as many giveaways (24) as takeaways (10) this season. Meanwhile, the Panthers are 7-2 in the Cam Newton/Ron Rivera era when they win the turnover battle. I expect Foles to make more mistakes than Newton, which will ultimately be the difference for the Panthers.
THREE REASONS WHY PHILADELPHIA WILL COVER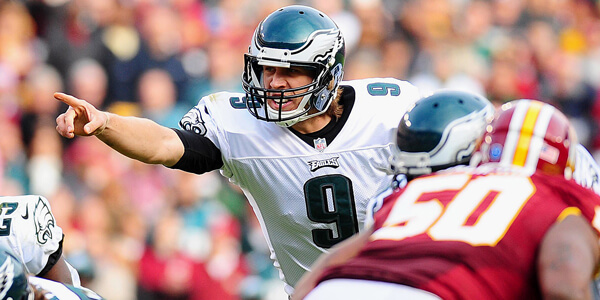 Open auditions
After back-to-back disappointing seasons, the Eagles front office is stocking up on Windex and mops for some serious house cleaning in the offseason. That makes the remaining schedule all that more important to players trying to keep their jobs. With plenty of guys playing for a paycheck, expect a spirited effort in order to secure their spot on the roster. And what better place to make a good impression than on Monday Night Football.
Reid knows Rivera
Two coaches, who will be emailing off resumes in the next few months, have plenty in common heading into Monday Night Football. Carolina head coach Ron Rivera goes up against his mentor, Philadelphia head coach Andy Reid. Rivera served under Reid in Philadelphia as a linebackers coach for five years, making this a classic matchup of teacher versus student. Expect Reid to recognize more than a few things Monday night.
Plan for Cam
The Eagles got a good taste of dual-threat QB last week when Washington rookie star Robert Griffin III busted their defense for 200 yards passing and four touchdowns along with 84 yards on the ground. Philadelphia has had a week to fine tune for another dual-threat QB in Carolina's Cam Newton. Newton is mired in a nasty sophomore slump, passing for only nine touchdowns while throwing 10 interceptions this season. Newton has also been slowed on the ground, scrambling for 394 yards and just four scores after finding the end zone 14 times last year.
Join the debate. Who covers on Monday Night Football, Panthers or Eagles (+3)?