Monday Night Football hits the West Coast when the Seattle Seahawks and the infamous 12th Man host the Green Bay Packers as 3-point home underdogs.
In order to give you the best insight into this primetime matchup, we've put the gloves on expert bloggers for each side. Kevin McCauley of Packers blog "
Acme Packing Company
" and Rob Davies of Seahawks blog "
Field Gulls
" debate why their team will not only win Monday night, but cover the spread.
THREE REASONS WHY GREEN BAY WILL COVER
Kevin McCauley is the manager for Acme Packing Company. You can follow them on Facebook and Twitter @acmepackingco.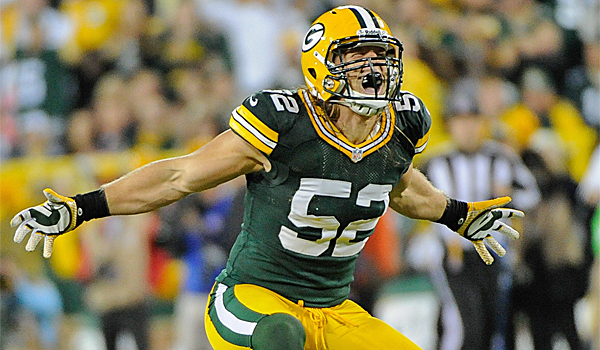 Rodgers hasn't peaked
Over the first two games of the season, Aaron Rodgers has looked like an adequate starting quarterback - not like he's the reigning league MVP. He was made to look extremely ordinary against the stellar San Francisco 49ers defense, and he wasn't exactly superman against the Chicago Bears either. The Seattle Seahawks have a strong defense, but they haven't seen a quarterback as good as Rodgers yet, and Rodgers has yet to hit his stride. He's going to have a dominant performance sooner rather than later.
Matthews is back
Clay Matthews simply didn't play at a Pro Bowl-level in 2011. The former NFC Defensive Player of the Year recorded just six sacks all season. Now that rookies Jerel Worthy and Nick Perry are helping to provide more of a pass rush, teams can't simply zero in on Matthews and double team him on every single down. He already has six sacks in two games this season and he did it against experienced quarterbacks.
Packers best rushing team (somehow) Seattle has faced
The Packers had to sign Cedric Benson to ensure they'd have a serviceable running back to start the season, and they couldn't run the ball to save their lives against San Francisco. They're not one of the league's best rushing teams by any stretch of the imagination. However, Benson averaged four yards per carry last week, while Randall Cobb has proven that he's a weapon out of the backfield as well. This makes the Packers the best rushing team the Seahawks have faced, almost by default.
FINAL SCORE PREDICTION:
Green Bay 24, Seattle 17.
Seattle's solid defense will keep their team involved in the game, but Aaron Rodgers will have his best game of the season thus far, while Russell Wilson won't have enough to outscore the Packers. Wilson's inexperience against the Packers' improved pass rush will be the difference.
THREE REASONS WHY SEATTLE WILL COVER

Rob Davies writes for Field Gulls. You can follow them on Facebook and Twitter @FieldGulls.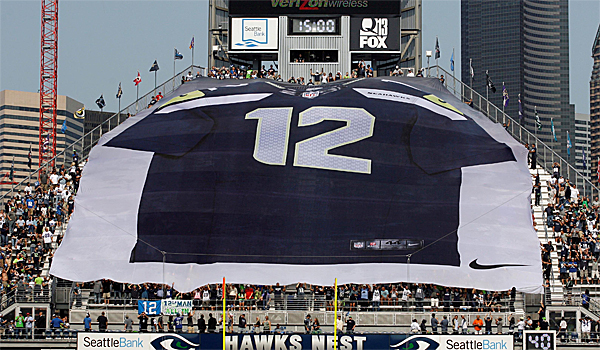 Home-field advantage
Seattle's home-field advantage is to be underestimated at a road team's peril. Most commentators, both written and broadcast, document the noise the rabid Seahawks crowd generates and never is it louder than when a renowned NFL powerhouse comes to town - and all this on a Monday night on primetime. Green Bay's offensive line won't hear anything like this all season long and will struggle to hear anything at all on third down. The barely rivaled cacophony of the 12th Man assists what is already an opportunistic and cohesive Seattle defense.
Run defense
Seattle's run defense ranks second in the NFL, allowing just 46 yards per game. They limited Beanie Wells and Ryan Williams to just 23 yards on 15 carries in Week 1 and yielded 44 yards to DeMarco Murray last week on 12 carries. They're giving up just 2.6 yards per rush and, while there's no chance of complacency against the Packers, they won't be fearing Cedric Benson and his 99 yards on 29 carries through two games. Aaron Rodgers will surely be forced to try to win this one through the air against a Seahawks secondary talented to the hilt.
Smashmouth in Seattle
Robert Turbin plays second fiddle to Marshawn Lynch and as long as both players are healthy, that chain of command will not be broken. On seven carries this season, Turbin has just 20 yards, but that doesn't tell the whole story. Seattle fans know he'll be overlooked and that suits us just fine. The beauty lies in the fact that, should Lynch tire in any fourth quarter, Turbin comes in and gives what is likely an already worn-down defense a dose of the same pounding on the ground. Green Bay's 25th ranked run defense is there for the taking.
FINAL SCORE PREDICTION:
Seattle 23, Green Bay 20
Green Bay's coming off an emotional win against the division rival Bears, a game that was actually labelled as "must win" for the Packers. That, coupled with a trip to a hostile environment against a team who could be gradually finding their groove points to the Seahawks simultaneously getting the "W" and covering the spread.

Join the debate and let us know which team will cover Monday night.