Last week was a week to forget. Unless you faded me, in which case you're still basking in the afterglow of your winnings and lighting cigars with C-notes you find lying around on the floor.
Sadly for me it was an 0-4 week, prompting this Tweet from a reader:
Actually, I did work at a grocery store part time in high school. Didn't particularly like it, but I was good at it. Nobody faced a cookie aisle or stocked a soda shelf like this mutha.
And it
is
hard to go 0-4. If I knew I could pick four losers every week, I'd be the most popular columnist on the Internet.
The good news is, traffic was great last week. (Though I have a feeling it will be down this week.)
Fear not, I have some picks so hot for this Saturday they're making me sexist. Hence the shameless and unnecessary use of cheerleaders in my column this week.
(If you don't get my Flight of the Conchords reference, see the video below. If you don't get my reference after that, I can't help you.)
I'm now 11-12-1 on the season. Good luck and God help me. Boom.
Nevada at UNLV (Projected +12.5, 66.5)
Nevada starting QB Cody Fajardo is questionable (which is why this line was off the board Friday). Unfortunately, for UNLV that just means they'll see more of the nation's leading rusher, Stephfon Jefferson.
You gotta think sooner or later though that UNLV will get sick of giving up over 600 yards a game in the Fremont Cannon game. Which they've done in three of the last four meetings and gave up over 500 in the other one.
Pick:
UNLV
Oregon State at BYU (-5.5, 37)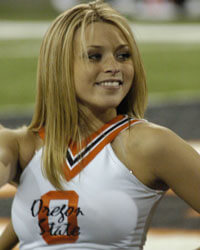 This BYU defense is wayyyy too much for a Beavs QB who's never started a game before. Bee tee dubs – if you haven't read
J-lo's story this week on 5-point spreads
, you should.

Pick:
BYU -5.5
Texas A&M at Louisiana Tech (+7.5, 80.5)
If you circled this game at the start of the season expecting it be a top 25 clash with the highest over/under of the season to this point, you my friend, are a dirty liar.
I like fading teams who unexpectedly enter the top 25 for the first time in a long time because they've typically heard about how awesome they are all week and they start to believe it. But what we should remember is that La. Tech hasn't faced a defense yet that is anything much better than dog crap.
Pick:
A&M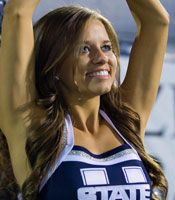 Utah State at San Jose State (-3, 50)
These teams are a combined 10-0-1 against the spread this season, so this is a matchup that brings a tear to the bettor's eye. I'm kind of hoping for a push.
San Jose State is coming off a bye and has lost the last three seasons to the Aggies. Don't see the Spartans dropping this one in this huge WAC matchup.
Pick:
San Jose State