Super Bowl XLVIII Cheerleader War: Seahawks or Broncos?
Jan 29, 2014 |
Whose Cheerleaders Are Hotter?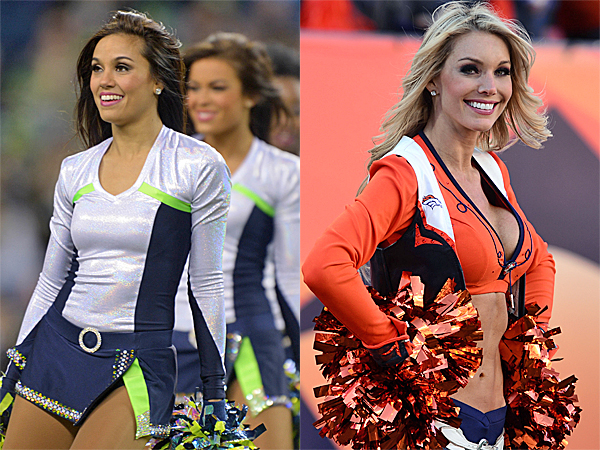 If you're on the fence about who to bet in Sunday's Big Game, maybe flip a coin? Or you could base your bet on whose cheerleading squad - Seattle or Denver - you think is the hottest. It's a lot more fun than "Heads" or Tails".
The Sea Gals or Broncos Cheerleaders?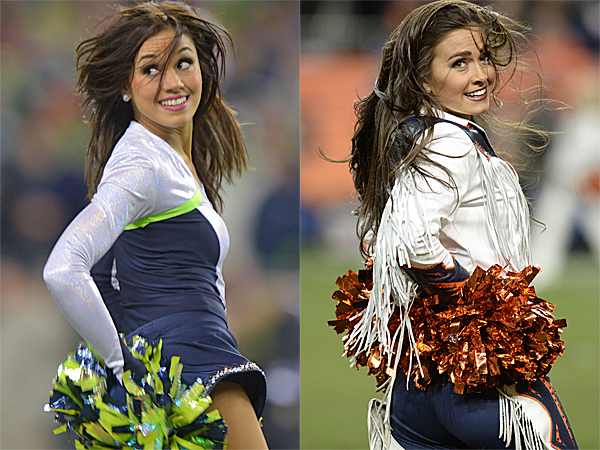 Seattle's sideline show has a great name. Much better than the generic title for the Broncos squad. However, anyone who's ever lived by water knows there's nothing sexy about actual Seagulls.
Famous Members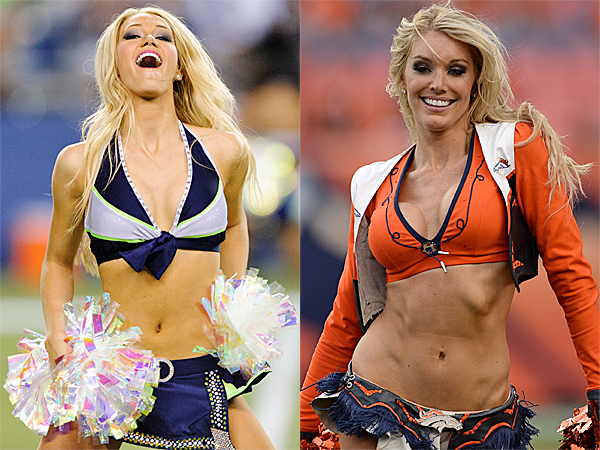 Neither squad has really produced any true celebrities. The Sea Gals have a former Miss Washington - Christina Clarke - and a Price Is Right model - Amber Lancaster. The Broncos have had three former Miss Colorado winners and the NFL Network's Michelle Beisner.
Seahawks ATS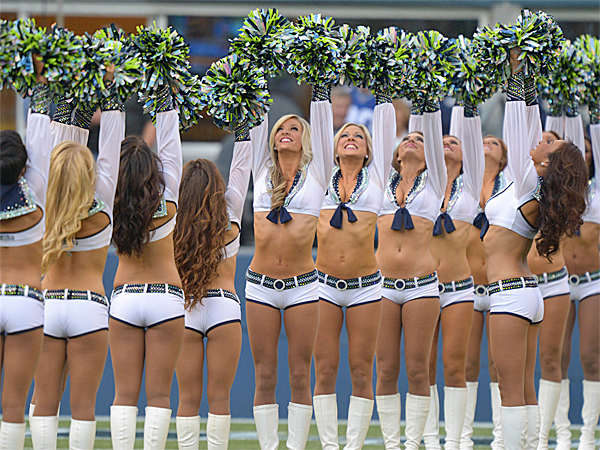 The Seahawks went 11-5 ATS this year, tied for the top ATS record in the NFL. Seattle was 5-3 ATS at CenturyLink Field, where the Sea Gals and the infamous "12th Man" cheered them on to ATS glory.
Broncos ATS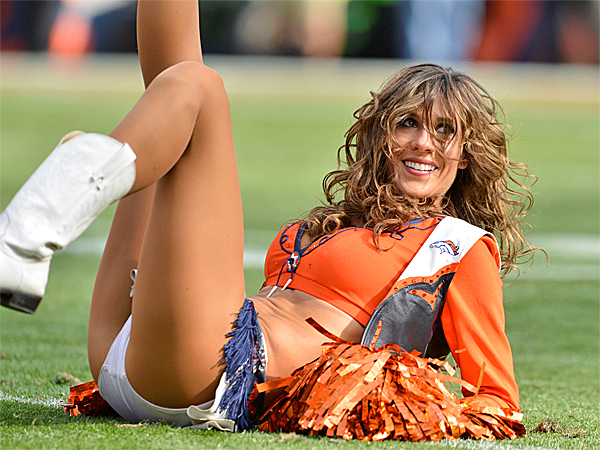 The Broncos were right behind Seattle in terms of ATS success. Denver went 10-5-1 ATS in the regular season, including a 5-2-1 ATS mark in the thin air at Mile High.
Seattle's No. 1 Defense vs. Denver's No. 1 Offense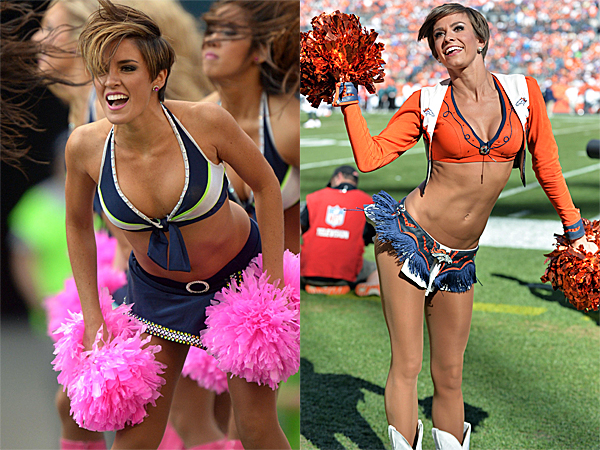 Twenty-one of 47 Super Bowls have featured a Top-5 total offense against a Top-5 total defense. In those instances, the defense has beaten the offense 13 times SU. However, teams with the better defense are just 2-5 SU and 1-6 ATS in the last seven Super Bowls.
Super Bowl Over/Under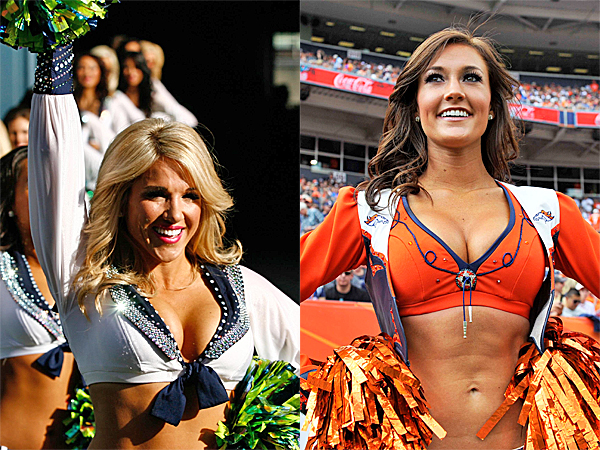 The Seattle defense helped Seahawks bettors cash in on the Under with a 6-10 O/U record this season, while the Broncos high-powered attack posted an 11-5 O/U count.
Cold Weather Watch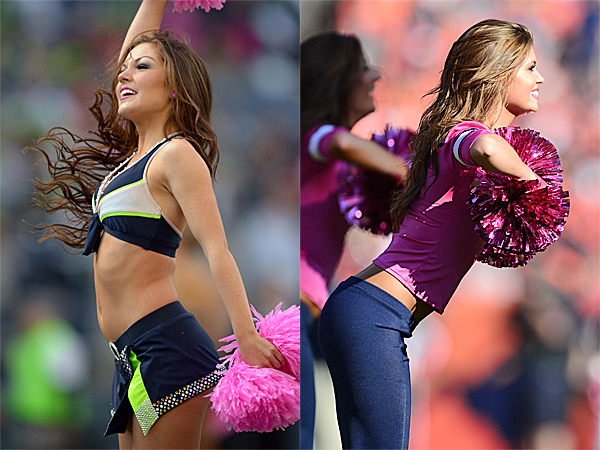 Both of these squads are used to chilly weather. The Sea Gals have done plenty of dancing in the rain while the Broncos cheerleaders know all about the snow. Chances are we won't see outfits like these on the sidelines Sunday.
One Last Look...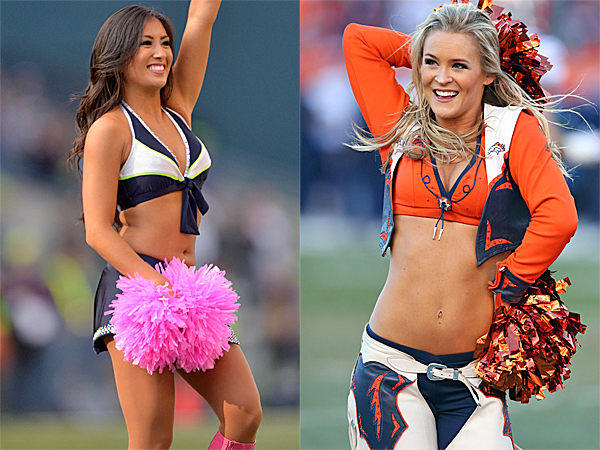 Alright, let us know which Super Bowl cheer squad is the hottest - Seattle or Denver? Place your vote in the comment section below. Good luck and enjoy the Big Game!
Previous
Next
More Galleries