Game 2 of the Eastern Conference finals is tonight with the Miami Heat set as 8-point home favorites over the Boston Celtics.
At this point into the postseason, the lines are drum tight. Books know what to expect and bettors have a good idea of what they're going to get from both sides. Perhaps the only things tighter than the
NBA odds
right now are the dancers for the respective teams.
So, if you're on the fence about who to take for tonight's
Game 2 showdown
– Miami -8 or Boston +8 – listen to your crotch…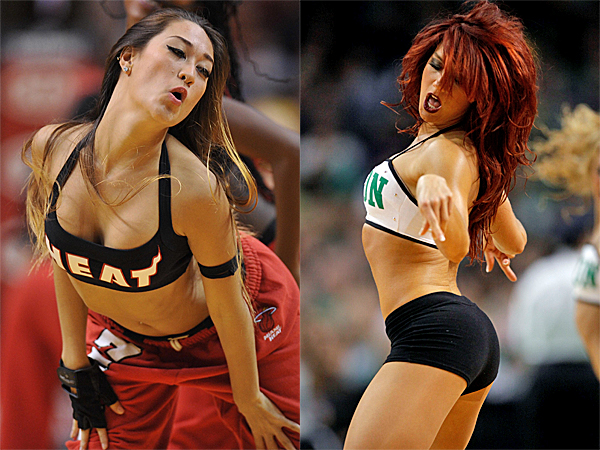 He's no Tom Hanks
Tom Brady flexed his funny bone back in 2005 with a guest host spot on Saturday Night Live and is unleashing his inner Peyton with a new sketch from online jokesters Funny or Die.
We have to give it to Tommy, he's not that bad. At least he's a better actor than Gisele was in Taxi. Best line: "Matt Damon, shame on you!"
Brady and the Patriots are 7-point road favorites against the Tennessee Titans in Week 1.
Child's play
The Scripps Spelling Bee just got a big boost in cuteness with
six-year-old Lori Anne Madison joining the field
for the renowned spelling contest. It's a nice change of pace from the fainting, socially awkward pre-teens of past years.
Madison, who won her regional in Virginia, is the youngest child to ever compete in the national spelling bee and joins 277 other hopefuls in Washington this week. Entrants range in age from six to 15 and will be competing for a $30,000 cash prize as well as a $2,500 U.S. savings bond and a $5,000 scholarship.
To put it into perspective: Madison can spell words like "sprachgefuhl" and we used spell check six times on this section alone. Nuff said.
Books have odds out for the Scripps, setting a male winner as the favorite (-132) over a female winner (-111).
Get nasty
It seems Gregg Popovich's demand for "some nasty" has trickled into the stands at the AT&T Center, where Spurs and Thunder fans duked it out during Game 2 of the Western Conference finals Tuesday.
San Antonio won 120-111 as a 4.5-point home favorite and is set as a 3.5-point road underdog for Game 3 in Oklahoma City Thursday.
Betting on the big screen
The latest big-screen take on sports betting just released its trailer (
which we tweeted last night
).
Lay The Favorite
, based on Beth Raymer's memoir, features Bruce Willis, Catherine Zeta-Jones, Vince Vaughn, and Rebecca Hall as Raymer. Hall, if you don't remember, played opposite Ben Affleck in
The Town
and has a role in the upcoming
Iron Man 3
.
Backdoor cheddar (AKA bad beats)
The Minnesota Twins did all of their scoring on
one swing of the bat Tuesday
, beating the Oakland A's 3-2 on Josh Willingham's walk-off, three-run homer in the bottom of the ninth. That burned Oakland backers who took the A's -110 and made the night for Twinkies fans, who cashed in at +104.
They said it, we liked it
"We could be watching on TV. You know what, this will take an hour out of today. What are we going to do? Go to the mall?"
– Los Angeles Kings head coach Darryl Sutter, on sitting through media day for the Stanley Cup final.
The Kings are priced at -103 against the New Jersey Devils (-105) for Game 1 of the Stanley Cup final tonight.
Hot tail with lame sports tie-in
Serena Williams' surprise first-round loss to Virginie Razzano has shaken up the women's French Open odds to win. Jumping to the top of the heap are Maria Sharapova and Victoria Azarenka, who are now +250 co-favorites to win at Roland Garros.
Luckily, for the sake of this section of
BetCult
, both are leggy blondes, which is just the way we like them.