Two NFC teams hit the field on Monday Night Football when the Dallas Cowboys head north to take on the Chicago Bears at Soldier Field in Week 14. Oddsmakers have tabbed Dallas as a 1-point road dog for this clash.
In order to get the best inside edge on this monster Monday matchup, we've enlisted the help of those who know these teams the best. Expert NFL bloggers K.D. Drummond of Dallas blog "
Blogging the Boys
" and Adam Oestmann of Chicago blog "
Chicago Bears Huddle
" strap on the pads and go head-to-head over which team – Cowboys or Bears - not only wins but covers the spread Monday night.
WHY DALLAS WILL COVER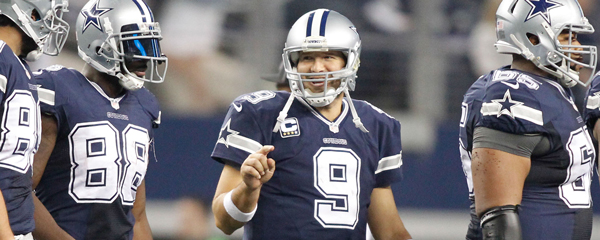 K.D. Drummond writes for Blogging The Boys and SB Nation Dallas. He can be followed on Twitter @KDP10For10 and @BloggingTheBoys.
Tony Romo's so elite In December
What do you mean Tony Romo fails in December? Oh, you've been listening to the meme-masters over at ESPN. The reality is, that Tony Romo has been awesome during the month of December, it's just that the team around him hasn't been.
Since 2009, Romo has 27 TD tosses against only five interceptions in the month, for a neat and tidy passer rating of 106.3. If you see that stat somewhere else, know that the author has been reading our BloggingTheBoys.com in-house stat wiz, O.C.C.
Romo's been garnering some runner-up MVP talk recently, and December will be the litmus test to the worthiness. Expect him to excel against a defense missing Lance Briggs and Charles Tillman, two players who both had pick-sixes the last time the two teams met.
The first team to 35 defenders wins
A lot of people want to talk about the Bears defense being banged up, which is laughable for Cowboys fans to hear. Dallas has played 38 different defenders on the year, eight more than the second-place team. If you were to take eight away from them (Colts), you'd have a team that ranks last! It's been that bad for the Dallas D. If you want to talk about something historic, talk about that.
Yet, the Cowboys still aren't the pits in the only defensive category that matters, points allowed. Twenty-second in the league isn't good, but it's a lot better than what it's made out to be. That's due to the Cowboys getting 25 takeaways, fourth in the league. They have the 2nd best TO differential, and have scored on 6 returns for the year. That doesn't include the couple times they've gotten turnovers inside the opponents' 20 that resulted in immediate scores.
This team is opportunistic and with the weather below freezing, mistakes will be made. Oh, and Sean Lee's back. Ha ha.
Seeing red
The Cowboys, finally, are capitalizing on long drives. Dallas is second in the league in turning red-zone opportunities into seven points, at just under 68 percent. They converted four of their five trips into the zone against Oakland, with the lone "fail" on the seven minute clock killer to ice the game that ended up with Dan "Split'Em" Bailey knocking it through.
With the Bears unable to stop a runny nose, expect Demarco Murray to slice and dice them up and down Soldier Field. He'll look to follow-up on his best scoring performance ever, getting into the end zone three times against Oakland. Expect at least a couple forays into the Bear's Den.
The Cowboys will combine all of these factors to score the outright victory over the Bears and improve their record to 8-5 on the season, preparing for the stretch run and a race to the playoffs. You heard it here first.
WHY CHICAGO WILL COVER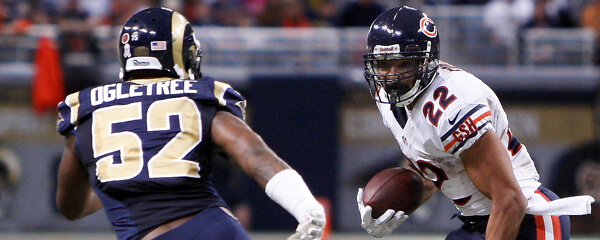 Adam Oestmann
is the managing editor for
Chicago Bears Huddle
on
ChicagoNow
. Follow them on
Facebook
,
Google+
and on Twitter
@BearsHuddle
.
Running scared
Chicago's defense has been demoralized versus the run this season, but they could get a break Monday night against a Cowboys team that likes to chuck it downfield. Dallas currently has the second-fewest rushing attempts in the league, and while they may attempt to see what holes they can take advantage of in Chicago, I suspect the Bears to be better with Stephen Paea and Jay Ratliff getting another week together on the interior of the line.
On the flipside, the Cowboys are darn-near as bad as the Bears in run defense, and Matt Forte is hitting his stride with an average of 4.9 yards per carry on a fairly healthy 19 carries per game over his last three. The team that can effectively run the ball in a chilly, potentially snowy, Soldier Field is going to have an edge. This time, I think that edge goes to the Bears.
There's a new "Marshall" in town
In three career games vs. Dallas, Brandon Marshall has been a beast with 16 receptions for 332 yards and three TDs. And he's sure to get his again against a Cowboys defense that has given up more yards than any other professional football team this season, including two games over 600 yards.
Additionally, Dallas has given up a lot of big, explosive plays. Now toss in the emergence of second-year wide receiver Alshon Jeffery — who hauled in 12 passes for a franchise-record 249 yards and two TDs last week, including an 80-yard TD reception — as an explosive playmaker, and the Bears' offense should be able to have its way with this unit.
Home sweet home
The Bears are coming back home after a two-game losing skid on the road and desperately need a win to stay alive. Make no mistake, while this game is an important one for both teams, it is win or go home for Chicago. And, as you might expect, the Bears are just better at home.
Their two losses in Soldier Field this season have each been within one score of a win or tie for OT. Perhaps most notable is that their defense is managing to hold opponents to an average of more than 80 less per game yards at home. And given Romo's reputed reputation of falling apart in the cold, it's only all the more advantage Bears.
Join the debate. Which team covers on Monday Night Football: Dallas or Chicago?