Over 10,000 college basketball games have been played this season to determine the matchup for Monday's national championship game.
For a matchup of this magnitude, we got the help of two guys who've written previews for a good chunk of those games to help us determine which team – Kentucky or Kansas – will cover the spread.
Kansas vs. Kentucky (-6, 137.5)
Why Kansas will cover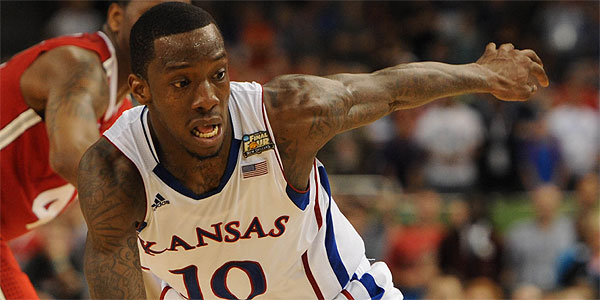 Larry Hartstein explains why he thinks the Jayhawks will rock - and shock – big chalk Kentucky.
Defensive efficiency
Kentucky might have the nation's top shot blocker, but no team is playing better defense than Kansas.
The Jayhawks came into the tournament ranked fourth nationally in defensive efficiency, then turned it up a notch. In five NCAA games, Kansas has held opponents to 35.3 percent shooting (107 of 303).
Kansas has its own shot-blocking machine in 7-foot Jeff Withey. He swatted seven in the semifinal win, altered several others, and harassed Jared Sullinger into a 5-of-19 nightmare.
With Withey, star forward Thomas Robinson and 6-8 Kevin Young, the Jayhawks won't be intimidated by Kentucky's size. Kansas just dominated the glass, 42-30, against one of the nation's top rebounding teams, while Kentucky just gave up 16 offensive rebounds.

Tyshawn Taylor
Here's the best sign for Kansas: the Jayhawks advanced despite a poor shooting night from Tyshawn Taylor, as Travis Releford and Elijah Johnson combined for 28 points (on 11-of-16 shooting) and 16 rebounds.
Now Taylor, the senior point guard, should win his matchup with freshman point guard Marquis Teague. It will be a breath of fresh air for Taylor after getting pestered by the nation's top defensive guard, Aaron Craft. If Taylor gets going offensively, this game goes down to the wire.
Coaching
Coach Bill Self is 3-0 all-time in the Final Four -- including the 2008 final when he beat another more talented team coached by John Calipari. Self's Jayhawks trailed Memphis by nine with 2:12 left in that championship game. The Tigers didn't foul in the final moments with a 3-point lead, enabling Mario Chalmers to nail the trey that sent the game to overtime.
Self's 2012 team didn't make the same mistake Saturday. We'll take the coaching edge, and the generous points.
Why Kentucky Covers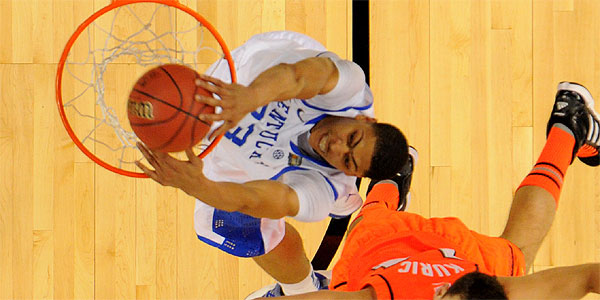 David Purdum tells us why he thinks the Wildcats will run wild on Kansas.
Talent Gap
Only one team has the ability the turn the national championship game into a laugher – Kentucky.
With a roster full of future pros, the Wildcats can play at a level that the Jayhawks can only admire.
Kentucky has six players considered among the top 100 NBA prospects, including the likely No. 1 and 2 overall picks in Anthony Davis and Michael Kidd-Gilchrist respectively.
Don't underestimate this talent gap.
This is a Kansas team that lost to Davidson. Kentucky overwhelmed its non-BCS conference opponents by an average of 28.5 points.
When John Calipari goes to his bench, he brings in future pro Darius Miller. When Bill Self goes to his bench, he brings in Connor Teahan. Again, talent gap.

Easy buckets
The Wildcats had
nine dunks against Louisville
. Does Kansas have that many in the tournament?
Ask Butler how important it is to get easy baskets in a big-stage title game. The Bulldogs never recovered from a dismal shooting start in 53-41 loss to UConn in last year's national championship game.
Where are the easy baskets going to come from for Kansas? If Thomas Robinson struggles against Kentucky's length—much like he did in the KU's Big 12 tournament loss to athletic Baylor—the Jayhawk guards better get off to a hot start. Point guard Tyshawn Taylor is 0-for-the-tournament on 3-pointers.
Kansas was on the verge of getting run out of the gym against Purdue and Ohio State, but neither the Boilermakers nor Buckeyes could deliver the dagger. Kentucky has the firepower on both ends of the court to finish off the Jayhawks.
Kentucky is 77-1 under Calipari when holding an opponent to 67 points or fewer. Kansas has surpassed the 67-point plateau just once in its five tournament games.