Check back each day throughout the rest of the week, when we'll add more notes leading up to Saturday.
-Navy has won five straight games (covering three), thanks to the
play of freshman QB Keenan Reynolds
. Reynolds took over five games ago and led a game-winning drive over Air Force to start the streak. The Middies were averaging 14.5 points per game before Reynolds took over and now scoring more than 28 per game.
-Kenny Miles will get the start at RB in South Carolina's first game back since the Marcus Lattimore knee injury two weeks ago. Miles is a senior with some starting experience. Stopping the run is one thing Arkansas does well though, with the fifth-best rush defense in the SEC with 121.4 yds against per game.
-The Gamecocks-Razorbacks total moved down two points to 52.5 this week, one of the bigger total moves on the board.
-Colorado-Arizona also moved down two points to 66. Wildcats QB Matt Scott was listed as doubtful in Friday's injury report, along with two other key starters, guard Chris Putton and safety Jourdon Grandon. Junior B.J. Denker will likely start at QB for Zona. His experience consists of 13 completions on 23 attempts, all this season. Arizona's last five games have played over.
-Two BYU football players were involved in
an alleged assault at a restaurant Thursday night
. Cougar senior safety Joe Sampson and sophomore linebacker Zac Stout were suspended by the team and have since withdrawn from BYU. Stuff like this is a big deal for a team like BYU, which has strick Honor Code. Sampson had 33 tackles, one for loss and 2 pass breakups this season, while Stout saw limited time. BYU is -39 hosting Idaho in snow and cold temps Saturday night.
- It is going to be
coooold
in Pullman when UCLA travels to face Washington State. Temperatures expected to be below freezing in the low 20s. Bruins favored by 16 with the total set at 60.5.
- Looking for possible reasons why 4-5 Syracuse is only a 2-point underdog against 9-0 Louisville this week? Here are three: 1. The Orange have the best total offense in the Big East. 2. Cuse ranks first in the conference in tackles for loss. 3. Louisville's defense is averaging 216 yards rushing against over its past three games.
- Miami has covered three straight games and its last four games have played under, thanks in part because it has started to clean up some serious defensive woes. But starting safety
Deon Bush will be out
and starting OLB Denzel Perryman is hobbling heading into Virginia this week. Those are two huge injuries for a defense just starting to find its feet. Sharps bet Miami from -1 to +1 this week.
- Mismatch: TCU has lost 24 turnovers this season. Only five teams in the nation have given up more, none of whom are any good. Kansas State leads the nation with only four turnovers lost this year. TCU is getting 7.5 points at home.
- Purdue is on a five-game losing streak (1-4 ATS). The Boilermakers have struggled on both sides of the ball but head coach Danny Hope says a major problem on offense has been third downs. Purdue is converting a measly 30.1 percent of third downs in Big Ten play. The good news? Iowa has the worst third-down efficiency defense of any conference foe Purdue has faced so far (40.6 percent). The Boilermakers are +4.5 at Iowa.
- USC has been fined and reprimanded by the Pac-12 for deflating footballs in Saturday's 62-51 loss against Oregon. This report from
USAToday's Game On
says one of the student managers was deflating game balls during the first half, apparently to give the Trojans an edge in gripping the ball. It's a bizarre incident and not the first time USC has been up to some funny business this season, according to the report. Not sure what it means for bettors. Perhaps you shouldn't be surprised if a few close calls don't go USC's way for the remainder of the season.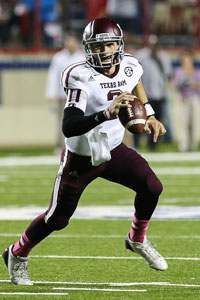 - The under is now a perfect 9-0 in Bowling Green games this season after a 26-14 win over Ohio, the only team with a perfect under record in the nation. Tennessee is the only perfect over team in the nation with an 8-0 record in its games.
- "What'd you say about my sideline demeanor?" Kind of funny
audio clip with a caller who tries to rip Nebraska coach Bo Pelini
on call-in show. Pelini handled it well. Perhaps lost in all of that is that Nebraska is the most penalized team in the Big Ten. Huskers are 7.5-point home faves vs. Penn State this week and 4-1 ATS as home faves this season.
- Texas A&M has scored first in every game this season and 14 straight dating to 2011. The Aggies have scored on seven of nine opening drives this year. Most books have props on who will score first in a game and though no odds are out as of Thursday, we're guessing A&M will most certainly be the underdog to score first against Alabama at Bryant-Denny.
- Iowa State has held all nine of its opponents under their season scoring average. The Cyclones will need to continue the trend this week in order to cover the 10.5 points against Texas, which averages 40.3 points per game.
- Michigan coach Brady Hoke said yesterday that Denard Robinson is now day-to-day for this week's game. The
line moved from Michigan -11.5 to -10
for the Wolverines' game at home vs. Northwestern with the upgrade in his status.
- A Georgia win this week will secure the SEC East and a spot in the conference championship game when the Bulldogs travel to Auburn. Georgia is a 15.5-point road favorite after opening at 15. The Bulldogs have force nine turnovers in a pair of wins and covers the last two weeks.
- Look ahead alert: Rutgers -17 vs. Army (Cincy next game), La. Tech -20 at Texas State (Utah State next game), Oregon -28 at Cal (Stanford next game), Fresno State -2.5 at Nevada (Air Force next game, though bye next week).
- Air Force is tied atop the MWC at 4-1 and still has a solid shot at winning the conference. The Fly Boys were a 20-1 flier to win the conference before the season - impressive considering they've had 21 players make their first college start this year, second most in the nation. They are +9.5 at San Diego St. and are making a cross-country trek after a disappointing loss at Army last week.
- Maryland has more issues than National Geographic right now. Besides being down to their millionth-string QB, the Terps also
lost their best defensive player last week
– to yet another ACL injury. That's why they're +31.5 at Clemmy.
- Inspired or emotionally exhausted? That's the call you have to make if you're betting Rutgers this week. The Werblin Recreation Center on campus housed displaced victims of Hurricane Sandy and the
Rutgers football team lent a hand while on bye
. Rutgers is -17 hosting Army.
- With Denard Robinson day-to-day, Michigan
will go to a hard-nosed, rushing-style offense
if he doesn't play which is more suitable to coach Brady Hoke's liking. It worked brilliantly last week against Minnesota when the Wolverines bowled over the Gophers for a convincing win and cover.
- There are four games with
spreads of 30 points or more
this week: Clemson -31 vs. Maryland; Arizona -30.5 vs. Colorado; Boise State is -30 (at the Orleans) at Hawaii; BYU is -38.5 vs. Idaho.
- There are four games with
over/unders of more than 70 points
this week: WVU at Oklahoma State 79; Baylor at Oklahoma 77; Marshall at UAB 74.5; La. Tech at Texas State 71.
- Utah looks like it may have turned a corner on the season. The Utes have won and covered their last two games and are 1.5-point faves at Washington this week. The Utes are the best kickoff return team in the nation, by the way, with 35.33 yards per return.
- Note: there are only 21 teams in the FBS averaging more than 25 yards on kickoff returns. No idea why more teams aren't taking a knee when the ball is kicked into the end zone on kickoffs.
- Northern Illinois is 6-0 SU and ATS against conference opponents this season. Keep in mind for next week when the Huskies face Toledo.
- UMass (0-9) and Southern Miss (0-9) are the only two teams left in the FBS without a straight up win this season. Both are 2-7 against the spread.
- When you're talking about your QB situation and you're saying things like, "I've spoken to all of them", you know you're in trouble. Cincy's QB situation is so desperate,
three guys are competing for the starting job this week in practice
. Cincy is a 10.5-point fave at Temple, though Munchie Legaux threw six INTs and completed just 45 percent over his passes over the past three games.
- On that note - Temple's defense has completely fallen apart, allowing 127 points over the past three games. The Owls lost and failed to cover all three, while all three also played over.
- Nose tackle
Mike Atkinson out for the season for Boise State
with a torn ACL. This is one of those huge injuries for a team that won't impact the pointspread, but shouldn't be overlooked by bettors.
- That said, Hawaii coach
Norm Chow said of Boise
, whom his team plays this week: "We obviously have a tough time matching up physically with Boise State – that's obvious. Just look at the tape."
- Clemson is on a six-game streak where the Tigers have won and covered and have scored at least 37 points in each game.
- Minnesota is -3 at Illinois this week. The Gophers were 8.5–point road faves this year to open the season against a bad (but now improving) UNLV squad. The last time Minnesota was favored on the road before that was the season opener in 2009 (-7 at Syracuse). Oddly, the Gophers won both those games in overtime by three points.
- Oregon State is thriving with Cody Vaz under center. The Beavers are 3-0 straight up and ATS in games Vaz has started this season in place of the injured Sean Mannion, who is now out for the season. Vaz is better with ball security than Mannion and has seven touchdowns against just one interception. The Beavs are +4.5 at Stanford this week.
- Favorites went 5-0 ATS in the Pac-12 last week and also in the Big Ten - if you got Nebraska early in the week before the Huskers moved to +1. Faves are now 55-55 ATS in the Pac-12 this year and 51-56-1 in the Big Ten.
- From @teddy_covers, here's a look at where the wise guy money went early this week: