The Las Vegas valley is full of golf courses. It will cost a pretty penny to play at Wynn Golf Club or Bali Hai Golf Club on the Vegas Strip. (Just in: the Wynn course may not be around later this year or next year because of a planned expansion. If you've ever wanted to play this course you should visit sooner than later.)

Most golfers looking to hit the links in Las Vegas will drive 15-30 minutes away from the action to find more affordable green fees. Las Vegas tries to be everything to everyone and there are a handful of different course styles from dessert to links. The variety of options for golfers in Las Vegas is fantastic.

However, Leaving the Vegas Strip may no longer be necessary for the recreational golfer just looking to hit a few balls and drop a few putts. Last year Topgolf opened their phenomenal flagship location at MGM Grand. Topgolf Las Vegas has everything a sports fan could want and this year the casino-resort is introducing the first Golfstream in the Level Up bar near the sportsbook inside the casino itself.



Golfstream is billed as the "world's first indoor laser golf course." This is an indoor virtual golf game that's on a whole new level above anything you may have seen before. Golfstream makes older golf simulators obsolete. Actual rocket scientists helped create this next-gen golf game.

When I was looking at the variety of new gambling options in Las Vegas, I thought that I needed to dive deeper into Golfstream. MGM Grand will host contests here where you wager on your skills versus other players but you don't have to wait for that to play and gamble. You can wager with friends in a variety of games whenever you want. You can also just eat, drink, and play the game at your leisure if you just want to hang out.

Golfstream has its own suite at the Level Up bar, lounge, and gaming area at MGM Grand. You'll have dedicated cocktail service and a "caddy" to help you play the game. Level Up is conveniently located right near the sportsbook.

The Golfstream game is a virtual reality golf simulator. You can play the world's most famous golf courses from the tee box to the green. Unlike other indoor golf games, the putting-green floor of the Golfstream can be adjusted to put slopes on the surface. You won't be putting on a flat surface. You'll be putting on a green similar to real life.

There are lasers that project onto the green to show how the ball will move. Just follow the lines to sink the putt. Of course, playing the break of a green isn't easy, even with help, and it gets exponentially more difficult with each adult beverage. The innovative green is the part of Golfstream that was, literally, designed by rocket scientists. The laser guidance system and augmented reality graphics simulate real courses and almost make you feel like you're inside a video game.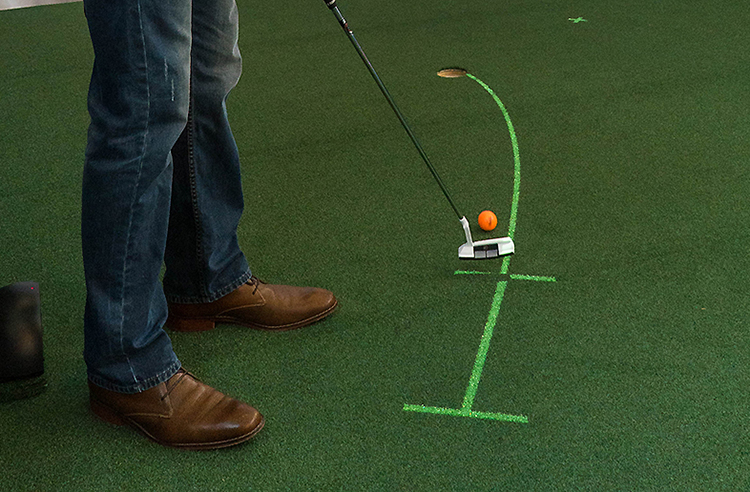 In addition to virtually playing famous golf courses, there are mini-games available; you can hit 'em long with the longest drive competition, skilled golfers may want to test their mid-range game with a closest-to-the-pin competition, and there are also putting games that can appeal to just about anyone. Of course, the moving green can make this a bit more challenging than playing KISS mini golf at the Rio.

Golfstream is a concept that will grow beyond Las Vegas eventually, however, the placement at Level Up inside MGM Grand will always be a little different. You might be able to get food and drink if a large sports bar adds the game, however, you won't be able to legally gamble. According to the Las Vegas Review-Journal MGM Resorts International (parent company of MGM Grand) is working with gaming regulators to host different golf tournaments at Golfstream for prize money. Among the skill-based contests being discussed are driving, pitching, and putting contests you can play for free. The best scores would win prize money.

Golfstream is a unique way to swing the clubs in Las Vegas. Prices depend on the number of players, day and time of your visit. Call in advance to make sure the time you want to visit is open. Unlike Topgolf Las Vegas there's only one unit to play at Golfstream.